Climate change forecast is dreary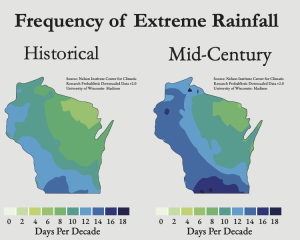 In nearly every region of Wisconsin, the effects of climate change are impacting people, communities and the environment.
The 2021 Wisconsin Initiative on Climate Change Impacts (WICCI), a project led by UW- Madison's Nelson Institute for Environmental Studies and the Wisconsin Department of Natural Resources (DNR), is an assessment that analyzes the impacts of climate change in the state.
Since the last WICCI Assessment Report in 2011, "new data show continued warming, increases in rain and snow and more frequent extreme rainfall events," the latest report stated.
"Statewide temperatures have warmed by about 3 degrees Fahrenheit, and precipitation has increased by nearly 20% since 1950," the assessment affirmed. "New analyses reaffirm previous projections indicating that many of these trends will continue, with wide ranging consequences throughout Wisconsin's natural and built environments."
The report also showed:
The last two decades have been the warmest on record, and the past decade has been the wettest.
Warming is happening fastest in the winter and at night.
Warmer and wetter conditions, extreme storms, summer droughts, milder winters and longer growing seasons are amplifying non-climate stressors to the point where diverse native habitats are simplified, associated wildlife species are diminishing or disappearing and species extinction rates are accelerating.
The report emphasizes the need to take action against climate change throughout all levels of government and stresses "the need for large and rapid reduction in greenhouse gas emissions."
The negative impacts of climate change on air, water, land, built environment and people are highlighted throughout the report, as well as solutions on how to respond to the damaging effects on both a local and state level.
"Human health and safety in all Wisconsin communities are increasingly at risk from climate impacts like flooding, the spread of disease, extreme heat and exposure to pollution," the report stated. "Support for climate resiliency education, planning and projects will help local governments protect their businesses, residents, economy and infrastructure."
The report also suggests solutions such as fully embracing clean energy, providing state funding for climate resilient infrastructure, conserving water, advancing effective conservation practices to make agriculture more resilient and promoting environmental and climate justice.
Overall, the WICCI report is the most comprehensive evaluation to date of climate change and its impact on Wisconsin, and it hopes to "help communities become more resilient to climate change impacts" through awareness, education and research."
You can read the full report at https://wicci.wisc.edu/.