UWO Model UN team wins big in Midwest competition
The UW Oshkosh Model United Nations team received high honors once again in the 62nd Midwest Model United Nations competition on Feb. 23-28 in St. Louis, Missouri.
This year's competition was the team's first in-person since February 2020 when all competition was suspended or held virtually due to the pandemic.
Over 50 countries, represented by 30 different schools, competed in the competition, with Oshkosh representing Indonesia, Germany, Namibia, Argentina and Uzbekistan.
In total, the team was recognized by the conference with 23 individual and five delegation wide awards across the five countries, the most of any school at the conference.
Awards are designated by conference staff on the basis of country awareness, topic knowledge, writing, public speaking, consensus building and diplomatic negotiation. Additionally, the delegate's choice award is chosen by peers in each committee based on who they think is the most knowledgeable and diplomatic.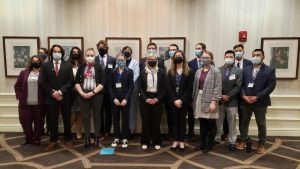 The UW Oshkosh team will continue their preparations for the National Model United Nations Competition in New York City, April 9-15.  You can follow the UW Oshkosh Model UN team on Twitter: @UWOModelUN.
Committees
GA1 – General Assembly, 1st Committee – Disarmament and International Security
GA2 – General Assembly, 2nd Committee – Economic and Financial
HRC – Human Rights Council
UNEA – UN Environment Assembly
Award winners include:
*All awards are achieved by efforts of the entire team*
Country Heads in Bold
Indonesia
Delegation-wide Award: Outstanding
Peter Herrmann (GA1): Outstanding Delegate, Position Paper, Delegate's Choice
Patrick Remick (GA2): Outstanding Delegate, Position Paper, Delegate's Choice
Gabriel Anderson (HRC): Honorable Mention Delegate, Position Paper, Delegate's Choice
Grant Steffen (UNEA): Honorable Mention Delegate, Position Paper, Delegate's Choice
Germany
Delegation-wide Award: Outstanding
Sami Christiansen (GA1): Outstanding Delegate, Position Paper
Jayme Baumann (GA2): Outstanding Delegate, Position Paper
Abby Tiedemann (HRC)
Sarah Fleming (UNEA): Outstanding Delegate, Position Paper, Delegate's Choice
Namibia
Delegation-wide Award: Distinguished
Trenton Korth (GA1)
Carrie Reed (GA2): Outstanding Delegate
Abbie Baker (HRC)
Cole Schmidt (UNEA)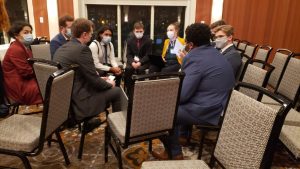 Argentina
Delegation-wide Award: Honorable Mention
Meg Traska (GA1): Position Paper
Savannah Bartelt (GA2)
Taeyeon Kim (HRC)
Dani Sawyer (UNEA)
Uzbekistan
Delegation-wide Award: Distinguished
Emma Sullivan (GA1): Honorable Mention Delegate
Mason Sada (GA2)
Ernesto Hernandez (HRC)
Cesar Morales Magana (UNEA): Honorable Mention Delegate