Student jumpstarts Ukraine supply drive
Many Ukrainians have stepped up to aid their country by taking up arms, preparing defenses or attempting to help those affected by the Russian attacks, but the movement of supporting Ukraine is not exclusively regulated to citizens of that country. One UW Oshkosh student knows this feeling better than most people as he has friends in Ukraine.
"My initial response to the invasion was my heart sinking," said junior Raiden Montero who went on a wrestling and mission trip to Ukraine in 2019. "The first thing I thought of was all my friends. Did they make it out of Ukraine safely? Did they stay to fight? Then I thought about the country itself. The beautiful country in which I left a piece of my heart was under attack."
Montero said he decided to take steps to aid those hurting from the current conflict and create a drive for clothing and necessary supplies. The drive continues through Friday. People can drop off non-perishable food, new clothes, blue and yellow painters tape (to tape windows from shattering), first aid kits, tents and sleeping bags at drop boxes around campus, such as one at Reeve Union's Titan Central. On Saturday, supplies will be loaded into a transport during a rally at the Opera House Square from 1-3 p.m..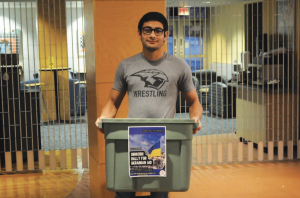 Montero's experience with Ukraine began in 2019 when wrestling coach Efrain Ayala informed him of the opportunity to travel, wrestle and preach as a member of the Athletes In Action, a Christian athlete organization. Montero had to choose between traveling to Mongolia or Ukraine. Due to his interest in eastern and Slavic countries, he chose Ukraine.
"After getting the money together, I left and met all of my teammates leaving with me in Chicago," he said. They traveled to London and then Kyiv, and first began a one-week cultural journey that took him to all corners of the country and led him to meet all kinds of people.
Montero said the first week was spent practicing mixed martial arts and exploring the country. He said he spent much of his exploration of the country learning about the religion as he was intrigued with Eastern Orthodox culture.
"We spent a lot of time doing church and bible study," he said. "We visited prisons and preached and played soccer with inmates. After the prisons, we visited an orphanage and preached there."
It was then that he had one of his most memorable moments in the country. Montero happened upon a Spanish child who had no one to share her native tongue with. Being Thai-Latino, Montero said he felt the importance of presence and began talking with her in ways that no one else could.
The second week was an athletic marathon of wrestling workouts and eating, which concluded with a massive wrestling tournament that included Americans, Turks, Armenians, Ukrainians and Russians.
"At the end of the weeklong camp, there was a lot of preaching, food and love," Montero said.
Since the end of his trip, he has kept in touch with his foreign friends via social media.
"I have only been able to stay in contact with three of my friends in Ukraine," Montero said. "One is currently a refugee in Poland. Two others, both of whom I grappled and feasted with in Fastiv, are now decked out in makeshift military gear and AK-47s, fighting for their freedom."
The United Nations refugee agency reports that over 1 million Ukrainians have fled the country since the beginning of the invasion.
Montero said he was moved by the harrowing stories he saw on social media and in the news. Upset at the comments calling the invasion a "European problem," he decided to step in. At an Oshkosh Student Association (OSA) meeting earlier this month, he proposed a food drive to help refugees fleeing the war-stricken country.
"My pitch mainly consisted of my personal connection with Ukraine to show people how much the media isn't truly capturing the horrors of what is going on, and then bringing up the staggering amount of Ukrainian refugees that have been forced to flee their homes," he said.
Montero said he explained to the OSA board members that these refugees need new clothes and supplies.
This pitch succeeded, and within a week, the food drive was underway.
"When Raiden started talking about this initiative, I was proud to see his passion and desire to help others," Associate Director for Student Involvement Missy Burgess said. "One of my favorite parts of working with students is seeing ideas like this one come to fruition, with the hard work and knowledge we have with professionals on campus."
OSA club president Jacob Fischer also voiced OSA's full support for Montero's food drive.
"Raiden is an exceptional person," Fischer said. "He has a vision for this, and we want to let him steer this event in the way he wants."
Montero said the initial response was positive.
"People were interested, their hearts were in it for the refugees and defenders, but we were tasked with the 'how' of this project," Montero said. He is also working with Wisconsin Ukrainians, a local group helping to expedite the donations heading overseas.
Montero said his trip to Ukraine made him realize the pride Ukrainians have in themselves as a people. "They respect and appreciate each other … and it has brought them together through thick and thin," he said.
While some people think pride is a negative thing to have, it can mean something grand. "Pride is great for me because I'm Thai-Latino [and] I don't see faces like mine," Montero said. "Being able to relate with people like that and understand that we share a culture that goes deeper than genetics is amazing."