Model UN success goes beyond the awards
With all the conflicts around the world, it can be hard to think that everything's under control. Sometimes we believe that there's no good solution, while other times, we wonder what the people in charge are thinking. That's why programs such as Model UN (MUN) are so pivotal, because they actively shape the politicians and leaders of the future.
For more than 60 years, UW Oshkosh has provided students the opportunity to participate in MUN conferences across the country. There, real-world situations and catastrophes are simulated and solved, with teamwork serving as the critical component in solving the task afoot.
The National MUN Conference was held in Manhattan, New York from April 10-14, where UWO participants played as delegates of the countries of Botswana and Singapore.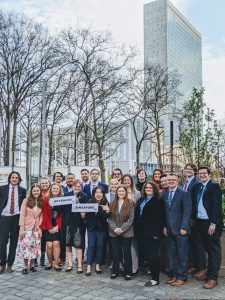 Perhaps the most impactful world event right now is the conflict in Ukraine, where Russian forces continue to attack key Ukrainian cities. Peter Herrmann, who served on MUN's General Assembly First Committee and won an Outstanding Delegate Award in his representation of Botswana, believes that the knowledge and experience he's gained helps him visualize the Russia-Ukraine conflict differently than the average person.
"Having participated in MUN," Herrmann said, "I feel like most of my peers would have a very similar approach to what's been happening [in Ukraine]." He clarified that, while many people in the Western world want to supply Ukraine with military support and other equipment, he understands the delicate line that every country has to walk.
"Being in Model UN, you learn that every action has a very specific reaction," Herrmann said. "In this case, the West is stuck between helping defend a sovereign democratic state and angering a regional power with nuclear capabilities." He said, "Model UN would definitely love to help solve this, but there is no clear solution to this issue [besides] humanitarian aid, improving logistics and getting civilians out."
Calculated and precise action, like Herrmann's, awarded the Botswana team delegation the Outstanding Delegation designation, the most prestigious award handed out at the conference. The Singapore delegation consisted of five students new to MUN, with Mason Sada being picked as an Outstanding Delegate in the General Assembly Second Committee, while Taeyeon Kim and Danielle Sawyer received Outstanding Position Paper Awards. This recent success marks the 38th consecutive Outstanding Delegation for UWO.
"We won a total of 14 awards," Herrmann said.
He also expressed his excitement about participating in person, a practice suspended during the pandemic.
"Beyond the awards," he said. "MUN has had tremendous success being able to shift our standard operations online and still perform excellently, which is much harder to do than one would suspect."
"I was a member of the Economic and Social Council," said Savannah Bartelt, who represented the Botswana delegation. She said she "worked with other delegates to get [their] ideas down on paper by negotiating, problem solving and ensuring that everyone's voices were heard."
Herrmann echoed her sentiment, adding that "MUN has helped me a lot in growing my negotiation skills … It has also made me more persuasive and enabled me to find common ground much easier."
He said that negotiation and finding compromises are some of the best skills that MUN teaches people.
Herrmann said MUN has had a profound impact on his college career. "I came to UWO as a nursing major; instead, I graduated with a degree in political science and am now getting a masters in public administration," he said. "[Through MUN] I acquired friends who became my family and who I will talk to for the rest of my life. I was able to continue a tradition of winning, success and teaching new members what exactly Model UN is."
Herrmann said he was able to teach three first years on the particulars of the political field. They discussed terrorism, preventing arms in outer space, improvised explosive devices and nuclear danger.
"I learned a lot by myself on these topics," he said. "Teaching these new members, I became more knowledgeable while also improving my skills as a teacher moving forward."
Bartelt was glad that her team's hard work paid off.
"I'm overjoyed that the team did well after all of our work preparing for the conference," Bartelt said. "We've spent months researching, participating in discussion and doing simulations and it all paid off in the end. It was a great experience, and I'm glad that I had the opportunity to attend."