UWO seniors share Honors capstone projects on diverse topics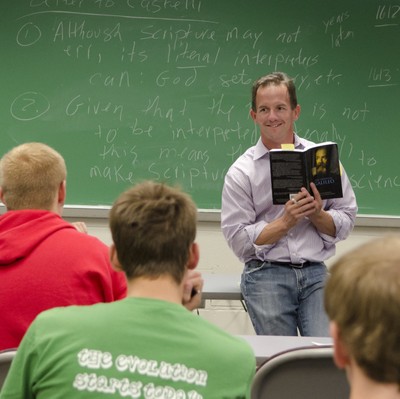 Fourteen seniors at the University of Wisconsin Oshkosh recently presented capstone projects at the fall 2022 Honors Thesis Symposium. They spent two semesters planning and researching their topics with a faculty or staff adviser. The projects serve as the final requirement of their Honors College curriculum.
The students, their capstone topics and their UW Oshkosh advisers include:
Jordan Betts: The Price of Valor: An Examination of the Role of Moral Injury and Stigma in Military Veteran PTSD, with Kathy Phillippi-Immel. Betts is a psychology major from Fond du Lac.
Theodore Bucur: Synthesis and Characterization of Bipyridine Derivative for Product Selectivity in Carbon Dioxide Reduction, with Sheri Lense. Bucur is a chemistry major from Berwyn, Illinois.
Jack Feye: Chronic Effect of Postactivation Potentiation in High School Baseball Players, with Brian Wallace. Feye is an exercise and sport science major from Oshkosh.
Quill Graham: Animals and Autism in Middle-Grade Literature, with Stewart Cole. Graham is a history major from Oshkosh.
Gwendolyn Gruber: The Effects of Education on Adolescents' Gender Development and Mental Health, with Courtney Bauder. Gruber is a psychology major from Oshkosh.
Emily Holland: Student Entrepreneurship: The Impact of Entrepreneurship Education on Business Formation, with Jeffrey Sachse. Holland is a finance major from Oshkosh.
Spencer Lebedun: The Impact of Blockchain on Sustainability: An Empirical Study, with Michael J. Tippins. Lebedun is an economics and supply chain management major from Oshkosh.
Oliver Long: Examining Oxidative Stress Response in Deinococcus aquaticus, with Sabrina Mueller-Spitz. Long is a French and microbiology major from Oshkosh.
Jerrett Netzer: Wire Fraud: A Look into Modern-Day Scams, with Donald Heath. Netzer is a radio TV film major from La Crosse.
Josh Stortz: Methods for Archaeological Lipid Extraction and Analysis, with Brant Kedrowski. Stortz is a biology and chemistry major from Hubertus, Wisconsin.
Jessica Tischaefer: Harmony Within: Music and Cognition, with Quin Chrobak and Beth Hubbard. Tischaefer is a psychology major from Oconomowoc.
Reegan Van Camp: Composing Educational Big Band Jazz Repertoire, with Marty Robinson. Van Camp is a music education major from Hortonville.
Breana Vander Wielen: A Comparison of Potential Methods for Reporting Human Capital in Audited Financial Statements, with Nathan Stuart. Vander Wielen is an accounting and human resources management major from Kimberly.
Emilee Wise: Paint It with Your Pen: Narrative Impressionism and the Motif of Hair in Louisa May Alcott's Little Women and Under the Umbrella (oil-on-canvas painting), with Don Dingledine. Wise is an English education major from Neenah.
Bucur, Gruber, Long, Netzer, Stortz and Wise graduate Dec. 17; the others are set to graduate May 13.
UWO's Honors College, led by Dean Larry Carlin, offers high-achieving students small, interactive seminars and team-taught classes, personalized advising and the opportunity to live on the Honors floor of a residence hall.