Voting opens March 7 for OSA officers, senators
Elections for the 2023-24 Oshkosh Student Association officers and representatives will be held next week. UW Oshkosh students will be able to vote for president and vice president, as well as senator at-large.
Polls will be open for 36 hours — from 8 a.m. March 7 to 8 p.m. March 8 — and students should watch for an email, sent out at 8 a.m. March 7, which will include a link to the ballot via Titan Connection.
The president and vice president candidates include:
Jana Metko and Devin Heinz: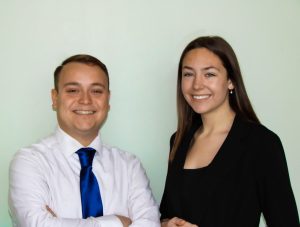 Jana Metko, a junior majoring in human service leadership, is running for OSA president. She is engaged on campus through the New Student Family Programs. Students may remember her as a Titan captain from Titan Takeoff or from her work with the Clash Collective Thrift Store. She also has worked as a peer mentor and tour guide. In addition, she is president and student outreach director of Chi Alpha and helped develop volunteer training for the Center for Civic and Community Engagement. She says: "Through my experience at UW Oshkosh, I have struggled with academic, environmental and relational challenges. I know what it is like to start from the bottom and feel like there's no one there to support your journey back up. Given this aspect of my life, I have gained a greater understanding of campus and the needs many students have. I want to have the opportunity to meet students where they are at and help to advocate for more connection between students and the resources available on campus."
Devin Heinz, from Oshkosh, is running for OSA vice president. He currently serves as OSA director or government and community relations, tasked with the responsibility of managing student body relations with the community, as well as relations with local, state and federal government actors. Prior to being in student government he interned for Tom Nelson's campaign for the U.S. Senate and as a civic influencer with the Center for Civic and Community Engagement. He says: "My purpose for running in student government is to serve as an advocate on behalf of the interests of the student body with an emphasis in supporting students from historically marginalized, underrepresented and underserved communities."
Why are they running?  "We're running because we are incredibly passionate and committed to serving the student body's interests. Since becoming students at UW Oshkosh, we have been involved in a wide array of organizations that have afforded us the opportunity to see many perspectives that students may have on campus. These experiences have gotten us to reach the conclusion that student success stems from being empowered, being recognized and being taught to compromise. If elected OSA president and vice president, we commit to following through on ensuring that these principles are the guiding force behind student governance."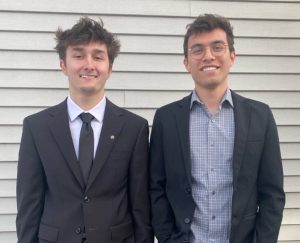 Ben Blaser and Jakob Rucinski:
Ben Blaser, a political science major from Janesville, is running for president. He currently serves as the OSA vice president and previously was an OSA senator. After graduating from UWO in 2024, he hopes to go to law school.
Jakob Rucinski, a chemistry major from Oshkosh who was born in Germany, is running for vice president. He is currently serving as the OSA vice president pro tempore and was an OSA Senator prior to that. After graduating, Rucinski hopes to go to medical school.
Why are they running? "We are campaigning on a variety of topics. We are first and foremost campaigning on the previous successes that we have had in OSA, such as reviving Senate and increasing lighting on campus. We are campaigning on our experience; our prior OSA involvement has given us the knowledge to solve issues effectively. We also want to bring back paper towels, end floor-wide bans in dorms, increase dairy-free options in our dining halls, fix Assembly and ensure that every identity on campus feels welcomed."
Anna Bubolz and Abdul-Karim Toheeb-Lawal: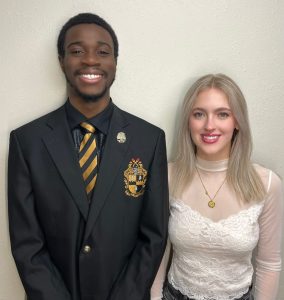 Anna Bubolz is a junior with a chemistry major and a Spanish major. She is a community adviser in Taylor Hall, and part of the UWO track team.
Abdul-Karim Toheeb-Lawai is a sophomore majoring in information systems who has a minor in African American Studies. He is a member of Alpha Phi Alpha Fraternity Inc. and is also on the track and field team.
Why are they running? "Our campaign is focused on the betterment of mental health for every student. We are also concerned with more diversity and inclusion on campus."
Senator At-Large Candidates:
Jesse Ramsey: "I am running to encourage participation in student government. I want to use my position as senator to encourage careful spending of student dollars to create an affordable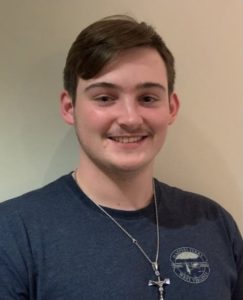 and high quality education for all who attend UWO. I am from the small town of Oxford, Wisconsin, and I am a political science major and an economic minor. I am currently an At-Large Senator in the OSA Senate and I am running for next year."
Daniel Smith: "I applied to be a senator again because I really enjoyed being a part of Senate during the 2022-23 school year and I hope to be able to be a part of it once again."