OSA honors, thanks Koker for service
The Oshkosh Student Association (OSA) Senate and Assembly recently passed and presented a resolution honoring Provost John Koker, and presented the resolution to Koker during the March 1 Senate meeting.
The resolution acted as a formal recognition and thank you for the years of service and dedication Koker provided to University of Wisconsin-Oshkosh as he has played a vital role at the university for 32 years. 
Earlier this year, Koker announced his decision to retire from UWO at the end of the 2022-2023 academic school year.
Koker began his career at UWO as a math professor in 1991. Throughout the years, he has held many leadership positions on campus. He became the chair of the math department in 2000, the dean of the College of Letters and Science in 2006, and was named provost and vice chancellor for academic affairs in 2018.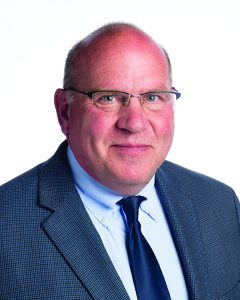 Koker also held an essential role in the creation and implementation of the University Studies Program, a program which "provides students with an accessible, common intellectual experience that also embraces the traditional breadth of a liberal arts education to prepare them for the challenges of work, for engaged citizenship and for a meaningful and satisfying life," according to the UWO website.
Koker has dedicated himself to engaging with and developing the UW Oshkosh community. The fact that he only has a few months left in his position does not hinder him from continuing to positively impact the University of Wisconsin Oshkosh, said OSA Chief of Staff Luiza Nelson and OSA Vice President Ben Blaser.
Nelson encouraged and assisted Blaser in authoring the resolution and acquiring sponsorships from other members of the OSA executive board.
In the honorary resolution, Blaser commemorates Koker's leadership and legacy. 
"Provost John Koker faced unprecedented challenges, such as the pandemic, with strength and resilience and kept the state of the University of Wisconsin Oshkosh strong," he said. 
"Under his leadership at the University of Wisconsin Oshkosh, he has built a lasting legacy by enhancing the experience of undergraduates by assisting in the creation of vital programs such as the University Studies Program."
Ben Blaser contributed to this article.