RIAS Berlin exchange program educates American, German students
Not unexpectedly, Germans and Americans have many differences when it comes to their day-to-day lives. 
While most United States highways cap out with a speed limit of 70 mph, Germany generally has no speed limit on the autobahn, with some driving 100 mph or faster.
In Germany, most restaurants stick to serving fancy-cut steaks and vegetable-based dishes. Meanwhile, sandwiches and burgers dominate U.S. menus with loads of deep-fried sides and sugar-filled desserts.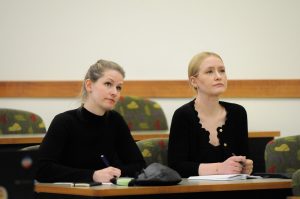 Furthermore, that hefty American hospital bill even after insurance is nearly unheard of in the German healthcare system. Americans would probably also be surprised to find out that a glass of water at a restaurant isn't free — and neither are public restrooms.
However, despite all of the differences, there is some common ground; both Germans and Americans are glued to their smartphones, binge-watching "The Last of Us" and, most relevant to Wisconsinites, agree that cheese curds are a delicacy.
Last Wednesday, two German journalism students came to UW Oshkosh as part of the Radio in American Sector (RIAS) Berlin exchange program. This will be the second consecutive year UWO is hosting RIAS exchange students.
"I'm so thankful that I had the opportunity to learn about journalism in the U.S. and about the work ethic people here have," said Linda Bachmann, a journalism student from Leipzig.
The RIAS Berlin Commission program has funded exchanges of broadcast journalists between the United States and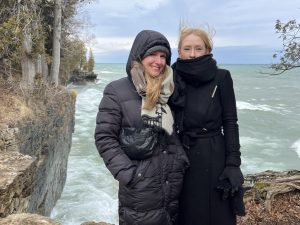 Germany since 1993.
The goal of the program is to carry on the spirit of the Cold War-era radio station, "Radio in the American Sector," which relayed Western news and music to former Communist East Germany.
The exchange is meant to encourage better communication and understanding between German and American journalists. The program recently opened up the exchange to student journalists.
Bachmann said that since traveling to the U.S., she's been able to explore a number of American news outlets.
"It was great to get insight into many networks like NBC, Bloomberg or Vice," she said. "To sum it up, I learned a lot about how journalists work and U.S. culture."
Kim Kristin Loschen, who is traveling with Bachmann as part of the exchange, said she was surprised by American culture after her visit to New York City last week.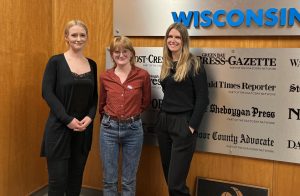 "I am amazed at the ambition that workers show here," Loschen said. "Many are very focused on their work. That is remarkable. At the same time, I find it frightening how many people are broken by the city and what stories are hidden behind the fates."
During their first week in the United States, Bachmann and Loschen met and interviewed former RIAS Berlin Commission honorary chair and New Jersey Gov. Phil Murphy.
They also visited the World Trade Center memorial, Trump Tower, Rockefeller Center and the headquarters of national news outlets before traveling to the Midwest to learn more about different political regions of the country.
After arriving in Oshkosh, Bachmann and Loschen met with State Rep. Lori Palmeri, toured the EAA Aviation Museum and Oshkosh Public Museum and visited Door County. They also sat in on UWO journalism,  radio/TV/film and political science classes, where they noted UWO classes were more interactive and hands-on than what they were used to.
Amy Woyth, a German journalism student who visited UWO as part of the RIAS program in 2022, said experiencing Midwestern life taught her about different aspects of the U.S.
"Spending time in Oshkosh … was a possibility to gain an insight into what life in the States is actually like, far off from tourist attractions in large cities," she said. "It was really valuable to experience the country from so many different perspectives."
Although Woyth said she no longer works in journalism, she still benefits from her time in the States. 
"It had a considerable impact on my personal life," she said. "It strengthened my fascination for and with the States and motivated me to come back one day and learn more."
Bachmann said RIAS was a great opportunity to learn about American journalism and its relationship with media consumers, especially in radio. 
"I've been in the U.S. before and was impressed by U.S. radio shows and how many people still tune in," she said. "When I realized that there is a chance to learn about how those shows are produced and how radio journalists work here, I had to take it."
PBS Wisconsin television journalist Joel Waldinger, who participated in the RIAS exchange in 2005, said the program allowed him to learn about and create a documentary about an underground Nazi resistance leader, Mildred Fish-Harnack, an alumna from UW-Madison.
"The PBS Wisconsin documentary Wisconsin's Nazi Resistance: The Mildred Fish-Harnack story became the story of a lifetime for me as a journalist," Waldinger said. "I would have never discovered her amazing, gut-wrenching story if it hadn't been for RIAS."
Waldinger said participating in the exchange heavily impacted his professional career and personal understanding of the relationship between the United States and Germany.
"It changed who I am as a journalist," he said. "There are so many things that bind our countries together and especially for Wisconsin with its strong German heritage. It's always helpful as a journalist to see how others do your job, how they view America and to discover areas where more work is needed."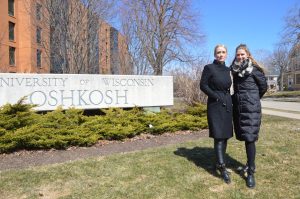 Loschen said she encourages other student and professional journalists to apply for the RIAS Berlin exchange program to learn about different cultures and learn new professional skills.
"I would definitely advise others to apply for the program," she said. "The RIAS program is a great chance to broaden your own skills and personal horizons."