University suspends theatre major
UW Oshkosh students are temporarily suspended from declaring a major in theatre due to low enrollment, UWO Provost John Koker said in an interview. 
"There are very few students in the major," Koker said. "There's not enough students to  populate a class."
According to public records for the 2022 academic year, 16 students declared theater as their major, and eight people declared it as their minor during the fall 2022 semester, compared to 14 students in the major and 21 minors for the spring 2023 semester.
A FOI request was made for emails associated with "eliminating (or cutting) of the theater major and/or minor" between deans and associate deans of the College of Letters and Science and Jane Purse-Wiedenhoeft, chair of the Department of Theater. But UWO public records custodian Elizabeth Hartman  said there were no records that were responsive to the reporter's request.
Koker said there are multiple reasons the theater department is declining in enrollment. 
"Does the problem start with marketing? Do they need to redesign the program?" Koker said. 
"However, I think most students are choosing to participate in theater as kind of an outside activity of their academic program."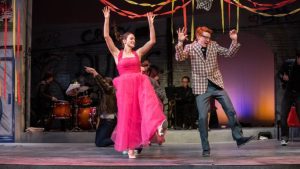 Koker said incoming students are opting for other majors.
"Right now, theatre is not a major our students are selecting," Koker said. "Many students go over there for auditions, but they're choosing either radio/TV/film or another major they want to consider."
Koker said that because he isn't entirely sure why more students aren't enrolling in the major, he temporarily suspended new students from declaring it as their major. 
"The temporary suspension is meant for the department to develop a long-term plan," Koker said. "It's to hope that they make changes for recruiting students to change their major, drop their major if they choose to and focus on [merging their minor] with another program." 
 Although the suspension is temporary, the department has limited time to make improvements before it is eliminated.
"They have one year to come up with a plan," Koker said. "If the department can make its final decision within one academic year, I will un-suspend students from being able to declare the major." 
Wiedenhoeft declined to comment on the suspension at this time, but she said that the production season and students currently enrolled are unaffected. 
"Current theatre majors are not affected by this," Wiedenhoeft said. "Also, current theater minors are not affected by this as well as certificates in which courses are included."
Third-year theatre student Kyle Klein said he's worried the temporary suspension will affect his education going forward.
"I'm now stressing about class availability more than in past semesters," Klein said. "After speaking with faculty, it's been made clear that classes needed for the major are not going to be offered for at least two more academic years or possibly never be offered again." 
Klein said that not having the right classes available to him could push back his graduation date.
"This puts me in a very complicated place, with the hopes I can graduate by fall 2024 … in question now," Klein said. 
Third-year theatre student Jordan Whitrock said he wants to see changes in how the department is promoted.
"I would like to see more engagement within the university in helping figure out the problem," Whitrock said. "I think there has not been much marketing help from the university, which adds difficulty."
Whitrock said that the suspension makes it difficult for the program to grow.
 "It is hard to grow a major if you can't offer it to new students," Whitrock said. "With a liberal arts college, it would be weird to have there not be a theater department."
Editor's Note: A caption and the headline were changed to reflect that only theater majors are impacted by Koker's decision. In addition, the FOI request information was modified to make it clear that the records requested did not exist; the public records custodian did not decline to provide the emails as first reported.