[media-credit name="Courtesy of UW Oshkosh" align="alignleft" width="240″]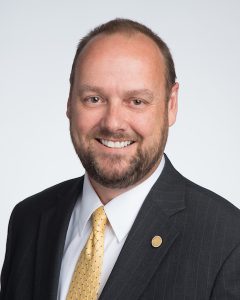 [/media-credit]
By: Chancellor Andrew Leavitt
As our nation prepares to recognize Veterans Day on Saturday, the University of Wisconsin Oshkosh is set to receive an important designation and testament to our commitment to supporting student military veterans. It is also a timely salute to students, faculty and staff members, UW Oshkosh alumni and all of their families who serve, and have served and sacrificed, for our campus and country.
Today, at the UW System Board of Regents meeting in Madison, UW System President Ray Cross will officially recognize UWO with UW Veterans Education and Transition to Success (VETS) Certification. We join a growing number of UW System institutions recognized for "outstanding and continuous commitment to assisting student veterans in navigating the challenging transition from military service to college life through specialized services, training, comprehensive supports and welcoming resource centers."
In the past week, I have also had opportunity to applaud to two Titans who exemplify student-veteran leadership. UWO student and new Office of the Registrar employee Aaron Kloss—who served as a member of the Wisconsin Army National Guard through three deployments to Iraq—shares his story, experiences and advice during the "Student Spotlight" portion of the Board of Regents meeting today. Last weekend, we honored UW Oshkosh Alumni Association Board member and U.S. Air Force and Navy veteran Kevin O'Brien during the Titans football game.
We are proud of these and all veterans in our Titan community, just as we are proud of the new UW VETS certification and honor. Student success is always the result of a spectrum of individual and collective efforts, and everyone at UWO had a role in helping us earn this latest institutional achievement.
UW Oshkosh is specifically being recognized for "leading all campuses in implementing priority registration for student veterans" through our distinctive Priority Registration Orientation and Resource Fair, coordinated with the leadership of our Student Veterans Association.
The event helps students explore and tap into services offered through our outstanding Advising, Counseling, Writing, Academic Resources and Career Services centers. It also connects Titans with the offices of financial aid, student accounts and Project Success, a supportive program for students with dyslexia and other language-based disabilities.
UW System leadership is also recognizing the collaborative work of our UWO Veterans Resource Center, the College of Nursing, and the Center for Teaching and Learning (CETL) "to train faculty and staff how to create welcoming classrooms and campus environments for student veterans." This is one more example and dimension of our efforts to foster an inclusive institution that helps veterans thrive and, in doing so, enriches the experience of every student learning with them.
Each of these distinctions are above and beyond UW VETS certification standards which require institutions to deploy faculty and staff training "on issues that student veterans may face in transitioning to college," issue surveys that collect and identify students' feedback and needs and sustain our long-standing veteran-focused offices and services.
I am so grateful to our UWO veterans, and I thank them for continuing to share their time, voices, experiences and leadership to make our campus community and entire UW System stronger. They and our new UW VETS certification remind me of the significance of Veterans Day and the generations of Americans who have served and defended the ideals and values that characterize and sustain public comprehensive universities like ours as places of discovery, development and transformation.
Join me this week in saying thank you to the many military veterans we live, learn and work with every day at UW Oshkosh.
Andrew J. Leavitt
Chancellor