Two UWO students prepare for their final gymnastics meet as Titans
Help send off the team at 3:15 p.m. Thursday at Kolf Sports Center
Two UW Oshkosh senior gymnasts, Haley Volstad and Trinity Sawyer, will compete for a final time as Titans Saturday, as the Titans look to defend their title from a season ago and claim their fourth National Championship title.,
Volstad began her gymnastic career as a toddler when her mom was just trying to expend her and her siblings' excess energy.
"I started when I was 3 [at] Twin city Twisters in Minnesota," Volstad said."Basically my mom put my sisters and I in classes …to get our energy out. My two sisters cried in class, but I loved every second of it."
Volstad continued to grow and develop and by her final year of high school, she was at the highest gymnastics level, level 10, in the Junior Olympics Program.
She said that she began to investigate different schools, eventually deciding on Oshkosh.
"I did like UW-La Crosse, but I had a hunch that I wouldn't click with the team," she said. I didn't like UW-Stout's campus. Winona University and Hamline University were small and I don't think I would have grown as much, and I thought I would flourish at UWO."
During her years at Oshkosh, Volstad said that she began to realize what it meant to be a member of a team, since during all of her other years of participating in gymnastics, she competed in a club as an individual.
"Freshman year was a wake-up for me," she said. "I had to learn about being on a team as opposed to being an individual in a club. I had to let go of 'me me me' and change my outlook into more of a team aspect, which was huge for me."
She said she was forced to step up for the team as a sophomore due to teammates being unable to compete, and then having her own experience of being unable to compete.
"Sophomore year was during COVID and I completed all four events that year due to injuries and sickness," she said. "I had to compete in those routines and help the team. Junior year, I broke my hand at the second meet of the season. Eventually I warmed up and got to put on my leotard and was an alternate at nationals."
Volstad said that this year she's played her greatest part in the team, due to the order of events during meets.
"Senior year is my greatest contribution," she said. "I'm first up on vault, so that's huge for me and that sets up the entire meet."
Sawyer also began gymnastics at the age of 3 due to her mother wanting her to flip over something other than furniture.
"My mom would tell me that I was flipping all over at home and she'd prefer me to do it in a safe and controlled environment," she said. "I've been doing it since."
Sawyer said that she excelled in high school, also achieving level 10 like Volstad. But during her later years, she experienced an injury that got her into contact with Coach Lauren Karnitz.
"My high school experience was pretty good," she said. "But my junior year  at regionals in Florida I tore my achilles, which is where I first met Lauren Karnitz who was scouting. She DM'd me and offered me an official visit during my recovery."
Ultimately, Sawyer said what drew her to the team was how the team wanted her there.
"During the visit, the team was great and very welcoming," she said. "I think what really sold me was how interested Karnitz was in my recovery and how adamant she was about making me an addition."
Sawyer said that despite troubles with the coronavirus, she's enjoyed every season here.
"The team has been really great," she said. "Freshman year we were conference championships, but COVID-19 affected [nationals]. Sophomore year was still online and everything was really hard to do gymnastics. We had a four-meet season, and it didn't count for much, but it gave us an opportunity to do what we had to do."
During her junior year, the team took the national championship, an experience she said was one of her favorites. After nationals she said she needed to recover from surgery, leading her to not compete until the Titan's first home meet.
"Junior year was amazeballs. We won conference and won nationals at New York. It was one of the best experiences of my life so far. After nationals I got another surgery on my foot and from April to January, I hadn't done any vault or floor while recovering from surgery. During our first home, that was my first floor meeting after surgery, and I've made every routine so far after that."
Looking forward past gymnastics, the seniors said they have begun laying out their plans for the next step of their lives.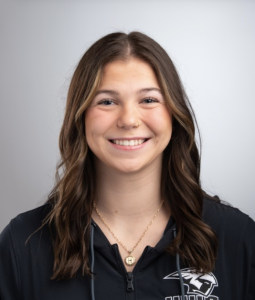 Volstad said that due to how intertwined UWO gymnastics has become with her life, it will be a difficult adjustment, but she is looking forward to what comes next for the team.
"It's definitely mixed emotions," she said. "I'm getting ready to be done with gymnastics after 19 years," she said. "It's going to be hard/. We've grown over the years, even the freshmen who I've known for a year. It's going to be really hard,but it's time to let it go. Lauren is great in the recruiting class and I'm excited for the future of UWO gymnastics."
Sawyer said that she expects the future to continue on the foundations the team laid, and maintain their legacy.
"They'll keep what we started going my freshman year," she said. "That's where they got the ball rolling with the championships and I think the incoming class will continue to build on the legacy we started."
Volstad majored in marketing and has certificates in sales and digital marketing. Thanks to  program connections, she is communicating with a company that specializes in sales in hopes of employment. She intends to stay in Oshkosh, find work and continue developing herself.
Sawyer majored in psychology and said she sees several options available to her such as sports psychology, going to nursing school or getting into marketing with her degree. She said that she's always been interested in helping people and has found it interesting how the mind works.
Students, faculty and staff are invited to sendoff the team at 3:15 p.m. Thursday on the Pearl Avenue side of Kolf Sports Center. On Saturday, the team will once again take on the National Collegiate Gymnastics Association National Championships at Winona State University, with Volstad and Sawyer competing their last time as Titans. A livestream of the events and awards will be available on the Winona State athletic website.