Tips and tricks: living off campus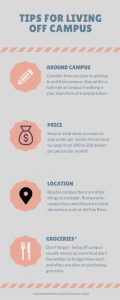 While deciding whether to live off campus, some of the most pertinent things that come to mind are how much freedom awaits and the possibility of cheaper living costs compared to campus.
Before you get ahead of yourself and take the leap into more independence, there are a few things that need to be considered.
Walking or driving to campus
Do you plan on walking or driving to campus every day for class?
If you plan on walking, I highly recommend you consider staying a half mile or less off of campus.
During September and October, the weather will seem like a cake walk, but once that first snow happens, your motivation to make that walk will decrease.
The farthest walk is from the apartments off of Pearl Avenue. Here is where places such as Morgan Crossing and the Radfords are located.
This walk takes about 12 minutes to the nearest academic building, Sage Hall. If you live in the homes on the east side of campus, it would take 12 minutes to walk to Sage as well, but this would be your longest walk to any of the academic buildings.
Price
Price plays just as big of a role in where you live. Besides considering the walk to campus, also consider the idea of how much you would like to spend.
Rent can cost $500 a month per person, while some places can cost as low as $300 a month per person.
The biggest difference is usually the quality of the home or building and what is included in rent.
A helpful tip is to look at what is all included in your rent, especially water and electricity. These are the two main utilities that vary the most month to month.
If you can find a price that you want to stick to and also find most, if not all, utilities included — you hit the jackpot.
Overall Location
Of course, the distance to campus is a high priority, but there may be more to think about than just campus when it comes to location.
In Oshkosh, there are a lot of things to do but one of the main ones, especially once you turn 21, are the bars.
While the apartments on Pearl Avenue, as mentioned before, are a longer walk to campus than the homes located off of the east side of campus, they are a shorter walk to the campus bars.
Depending on how often you plan to engage in these activities, it may change your mind when thinking of the prices of Ubers.
This side is also closer to places such as Mahoney's, Jimmy John's, Big Apple Bagels and the Fox River.
If these are places that you work at or often go to, maybe the south side of campus by Wisconsin Street is more appealing to you than a location like Scott Avenue or Cherry Street.
Overall, Oshkosh has a wide variety of places that students can live in that are still near the central campus.
Most of the off-campus housing is cheaper than the prices of the dorms, which makes this transfer more appealing.
As long as you keep in mind the items above, you should be able to prioritize what is most important to you before deciding where to rent.