Pinocchi-oh my God, my ears are bleeding
Welcome to my review of UWO-Fox Cities' production of "Shrek" the musical. The show was spectacular, by which I mean it resembled a spectacle. From my perch in the balcony, behind a bald man with a scar — or possibly a dent — on his head, I watched this musical unfold. So what about it?
Much like the height difference between Shrek and Lord Farquaad, the show had its highs and lows.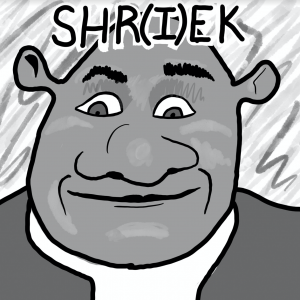 Shrek, played by Lorenz Marcus, is told from age seven that it's a "big, bright, beautiful world," but not for him, and he's sent away from his parents. In his swamp, he takes this to heart and becomes a sort of happiness-incel, cursing anyone capable of enjoying life and its bounties.
The show's excessively reclusive character was dull, and caved unrealistically quickly to Pinocchio's plea that he go to Duloc (cleverly renamed Du Lac) and convince or coerce Lord Farquaad to give the fairy tale creatures their land back.
In Shrek's defense, the fairy tale creatures, led by Pinocchio, are so insufferably irritating, I too would surrender myself to a fiery dragon just to be free of their presence.
Pinocchio's jokes and costuming are painfully insipid and cringe-worthy. Let me guess, he's going to say something all defensive-like, and then his nose will grow? Please, the jokes were as stale as the stench of beer in a freshman's dorm.
I won't disrespect you, dear reader, with details of Pinocchio's ear-splitting voice.
By way of costuming, I was let down. For a production with such an exceptional set, I would have expected better costuming for Shrek than green face paint and what appeared to be a hood. As for the swarming mass that was the rest of the cast, they all blended into one unremarkable crowd of trick-or-treaters.
One costume that did stand out was that of Lord Farquaad, played by Kevin Plekan, which was comic in a very postmodern way. To achieve the effect of Farquaad's short stature, Plekan bumbled around the stage on his knees, with flimsy puppet legs dangling before him. This, combined with the heavy arm swinging required when walking on one's knees, gave off the playful, whimsical manner common to some drunk types. It also made for truly exceptional dance scenes, punctuated by his awkward, shuffling movements.
The stage's design was first-rate, with smooth transitions taking mere seconds, minimal and effective set pieces, and lighting that left me totally awed, most notably in the scene when Shrek and Donkey, played by Ericka Wade, are crossing a bridge over a moat of lava. A warm, orange light spun around the stage as the bridge was slowly pulled across the stage, the two of them climbing over it left to right. The light adds such complexity that I couldn't help feeling the drama of the moment.
Lyrically, the musical fell shorter than Farquaad. With the exception of Amanda Petersen's powerful and rich solo as the dragon, I spent the majority of the musical questioning whether I was mistaking volume for vocal skill. What emotion there was in "Shrek" was a product of the marvelous pit orchestra, conducted by Todd Wegner, although I have my reservations about one particular moment in the musical that can only be described as a symphony of flatulence.
Sadly, in regards to the aspect of musicality, there was no — I repeat — no rendition of Smash Mouth's "All Star," which, if you're anything like me, is ubiquitous with "Shrek."
As a whole, I don't believe "Shrek" had the emotional depth that was perhaps intended, and many jokes were rather hoary. The musical was peppered with bits of meta humor, which were sometimes funny, and sometimes negatively impacted the pace of the show. The show's acting and singing was generally hit or miss, with consistent, quality music from the orchestra. I'd give "Shrek" three out of five stars.