Student finds home at Latino organization
My definition of the term "Latino" refers to a person considered part of an ethnic background that is Spanish speaking. Hispanic, Latinx, Chicano. Immigrant, naturalized or U.S. born. Black, white, brown, blended.
Being Latino can mean so many different things, rooted in about two dozen different places of origin. And though Latinos may have a language in common, there isn't a singular voice or narrative for the Latino experience.
For me, I am considered to be Mexican-American, making me both Hispanic and Latino. In college, I did not feel entirely from Mexico or the U.S., but a mixture of both.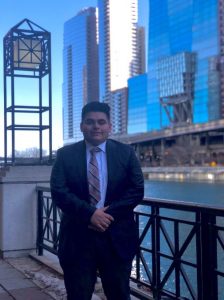 How can I be Mexican when I'm pressured to be more American or how can I be American if I am pressured to be more Mexican? For me, being Latino means living in two different worlds and how you view yourself.
Throughout my early years as a college student here at UW Oshkosh, I was very excited to further pursue my dreams of obtaining an education, becoming the first generation throughout my family to persuade myself into achieving my goals of obtaining my bachelor's degree and later on further expand on obtaining a master's degree later on.
As an introvert and a shy person, my mindset suggested that I would set a new goal. That I will persuade myself to meet and greet new friends around campus, knowing that my college years will be the best time of my entire life.
However, as soon as I started to know my way around college, I noticed that there was little to no diversity around campus, such that I was the only Latino student throughout most of my classes. In that way, my identity felt under-represented and I felt less interactive and motivated when meeting new people.
During the Taste of Oshkosh, though, I discovered the Student Organization of Latinos as an organization that promotes supporting students of Latino heritage and strives towards learning about Latino cultures throughout UW Oshkosh.
Not only did I join SOL for promoting my Latino heritage, but I also wanted to know more about the meaning of being Latino and get to know members who are Hispanic/Latino across campus.
Being born in the United States throughout my entire life has led me into an identity crisis, struggling on losing the culture and language of what it means to be a Latino.
SOL has brought me into the person I am today: open-minded, communicative to other people, motivated, responsible and finally able to help those in need.
SOL also encouraged me to make new friends in the organization and allows me to hang out with them to have fun, rather than just study in college all day.
More importantly, helping other multicultural organizations such as the Asian Student Association, Hmong Student Union, Men of Distinction, Sisterhood, Inter-Tribal Student Institution and Black Student Union will not only help break that barrier of having a vast majority of the same ethnic or racial group in a specific club or organization, but also increase diversity and inclusivity among UW Oshkosh.
Without SOL, I would not be the same person I am today.