Titan Taco is nothing special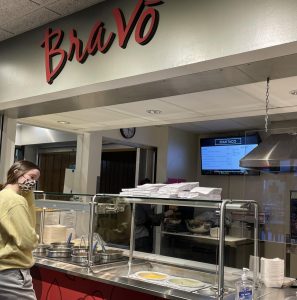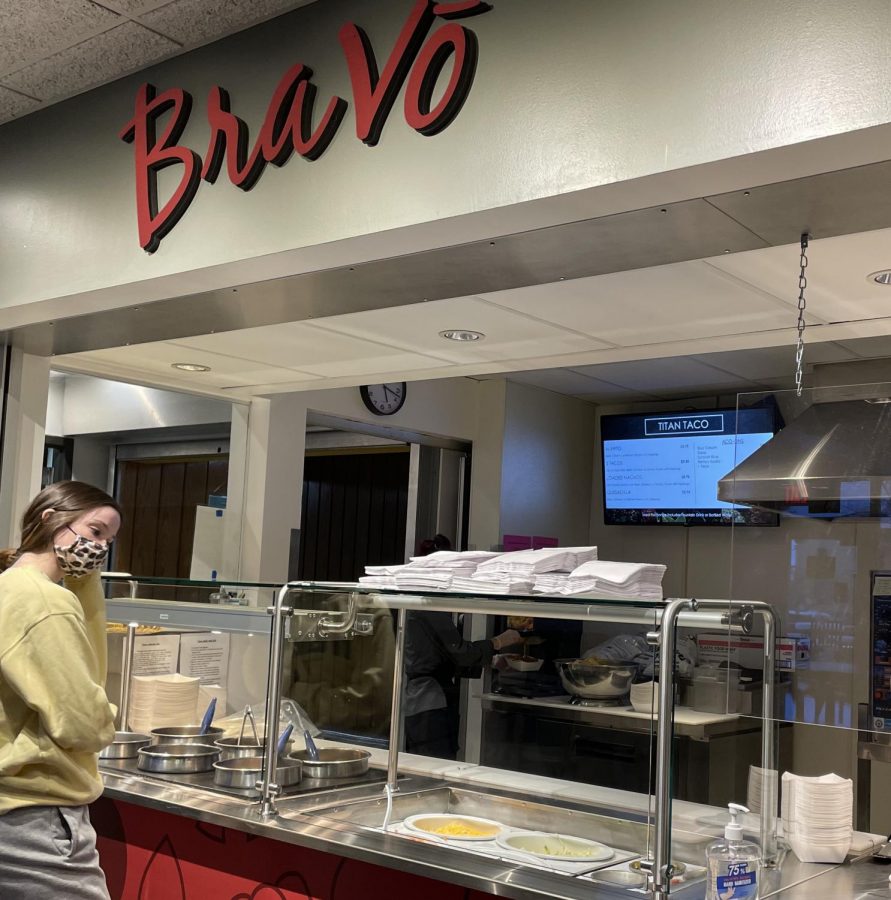 This semester, UW Oshkosh is offering a new dining option in the form of Titan Taco, a Tex-Mex-style restaurant located in Scotty's Market. The new addition to UWO's dining options offers a very minimalist menu, but it is just that that makes it a good addition to Scotty's.
The four entrées featured on the menu are: a burrito, two tacos, loaded nachos or a quesadilla. All of these options can feature beef, chicken or refried beans, and subsequent toppings such as shredded lettuce, shredded cheese, diced tomatoes and jalapeños.
In addition to those toppings, sour cream and salsa are available as premium toppings for 35 cents extra.
The final thing of note on the menu are the add-ons, which include Spanish rice, refried beans ($1.59 each) and one taco ($1.75).
In accordance with the other restaurants in Scotty's, Bravo Pizza and Titan Point Deli, Titan Taco is open from 2-10 p.m. Monday through Thursday, 2 p.m.-midnight on Friday and 5 p.m.-midnight on the weekend.
How is the food, though?
Well, in one word: serviceable.
Perhaps the most accurate assessment of the food came when someone I was eating with, who was brave enough to try the loaded nachos, endearingly compared them to ones that you would find at a stadium.
I shared a similar sentiment when I tried the burrito; it tasted fine, even if its innards did look like something I would feed to my cat.
The best thing that I tried at the new restaurant, and the item I would recommend trying for yourself, is the quesadilla. While, yes, it is exceptionally difficult to mess up a quesadilla, the ones at Titan Taco stand out, especially when paired with shredded chicken and rice.
The only real issue I had with the food is the lack of toppings. With only four toppings, it kind of feels like Titan Taco only offers the bare minimum to even be considered a "Tex-Mex" restaurant.
On top of that, the fact that sour cream comes at an extra cost, despite the fact that it comes free at Chilaca, is both confusing and disappointing.
That being said, is Titan Taco worth your meal?
Yes, but only if you are OK with smaller serving sizes.
In exchange for a meal (a bonus one if you are on the All-Access Meal Plan), you will receive one of the entrées and a choice of a bottle of water or a fountain drink.
Like I said, the food is serviceable, but I was disappointed by how little food there actually was. For reference, all of the meals are served in paper trays, the kind that you would generally expect your side to be served in.
Maybe I'm just a glutton, but an entrée with no sides included seems lackluster when compared to a sub with two sides or an entire personal pizza (the offerings of the two neighboring restaurants).
It could be argued, however, that the smaller selection of offerings is perhaps appropriate for what is meant to be a nice little addition to Scotty's, not a mainstay dining option in Reeve, like Clash Burger was meant to be last year, and that wouldn't be wrong.
Even so, the inevitable comparison that Titan Taco will have to face is with Chilaca, the other Tex-Mex-style offering at UWO, but the debate needn't take place, as it's not even close.
While Titan Taco has some decent offerings, it pales in comparison to Chilaca. Chilaca's depth of menu (most notably: the bowl option), superb toppings and large serving sizes make it both more enjoyable and worthwhile than Titan Taco.
That being said, Titan Taco is perfect for what it is; a mid-tier offering geared more toward convenience than quality.