A-T staffers' favorite places to study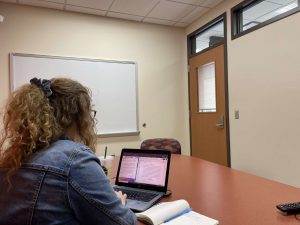 With finals week just around the corner, students will be flocking to various places around campus to prepare for their exams.
If you're in need of inspiration for where to do your last-minute cramming, here are some of the preferred study spots of the Advance-Titan staff.
Lexi Langendorf, Arts and Entertainment Editor
This semester, I've spent a lot of time studying in my apartment due to COVID-19. Normally, however, my favorite study spots are either somewhere outdoors or at cafés with friends.
If the weather is nice during finals week this year, I'll definitely be studying outside as much as possible. I generally keep it pretty simple and just lay a blanket out on the ground somewhere. And I always love to have something to sip on, like iced coffee or tea. I believe that the best study spot is outdoors because it provides a relaxing environment that helps soothe the stress finals week brings. The fresh air and sunny atmosphere really put me in my element and help me to stay focused.
Cory Sparks, Managing Editor and Sports Editor
My favorite place to study is the third floor lounge on Taylor because it is both a quiet place and convenient area to study. By not having to go too far from my dorm, this is an accessible place that I can use to study at any time.
Sami Christiansen, Assistant Social Media Manager
I really enjoy Sage third floor study rooms. I started going to the third floor because typically that was where my classes were, and if I go early enough in the morning, there is usually one open, and it just became a sort of habit. I like that I can write out and visualize my ideas on the whiteboard, and there is enough space where I can meet with classmates or friends, or work alone depending on the project and the day. The orange color is bright and keeps me awake, and the roll-y chairs are just fun enough to not be a distraction. I encourage you to try studying there if you need a quiet, clean and distraction free environment, as long as you leave one open for me!
Katie Pulvermacher, Opinion and News Writer
If I'm not studying on the second floor of north Polk by the big windows, you can probably find me in the basement of my dorm, Stewart. Stewart's basement is a great place for me to study at night and crank out a bunch of assignments. No one is ever down there around 8 p.m., and it's fun to bring a friend, listen to music and study.
Owen Peterson, Opinion Editor
My favorite place to study has to be the north third floor of Polk. It's probably one of the quietest and most secluded places on campus, so it's perfect for focusing and finishing a 10-page paper the day before it's due. The down side to that, of course, is that every time you accidentally make noise, it feels 10 times louder than it actually is, but I'm pretty sure that's a fair tradeoff. Also, that section of the library is always super warm, which makes it amazing in the winter months.