End of an era
Throughout the past four seasons, the UW Oshkosh Titans football team has experienced its first trip to the Stagg Bowl in 2016 and a record-breaking 2017 season at 12-1, in which 10 players finished with honorable mentions. However, among those 10, and among the four that were seniors, one Titan stands out. A Titan whose legacy will forever be written in the history books as the greatest quarterback to play at UWO to date: Brett Kasper.
The 2017 Gagliardi Trophy recipient, the first-ever Division III player to be selected as captain to the Allstate American Football Coaches Association Good Works Team, a two-time Wisconsin Intercollegiate Athletic Conference player of the year and the Titans' all-time leader in touchdowns thrown and passing yards, Kasper has helped rewrite the UWO and WIAC record books.
Now training for a chance to compete at the next level in his football career, the 2017 Oshkosh graduate was not always sold on his own quarterback capabilities. In fact, it was baseball that was his favorite sport for much of his life, and it was not until his senior year at Two Rivers High School that Brett got to start behind center. However, he has never since stopped working to improve his quarterback potential.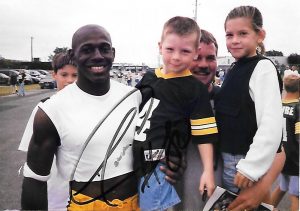 Growing up
In the close-knit city of Two Rivers, Wisconsin with a population just under 12,000, Brett grew up in a small family of four with his father Ken, mother Linda and older sister Kayla. It was during his time as a child that his active lifestyle began.
"I think I gained the interest of football just from playing with the neighborhood kids," Brett said. "I was always kind of the youngest kid in the neighborhood, which I think helped me in the long run, playing with the bigger, older kids."
Brett's mother, Linda, said she felt promoting an active lifestyle was something that was important to her as a mother.
"One time at a young age it was just Brett and I, and we were on a bike trail called Ahnapee Trail, and I think Brett was either four or five," Linda said. "So we went on this bike ride, and on our way, the sky started to get really black. So we had to hurry back to my car and this kid at the age of four or five biked 12 miles back and never stopped. I just always knew at a young age he could strive and push himself to accomplish things."
Brett's love for being active in backyard play grew into competing in recreational youth leagues, one of them being flag football in the city of Manitowoc. Although he had the interest in the quarterback position, Brett was unable to try it for much of his youth due to the fact that he exceeded the weight limit to run the ball. Therefore, his position became center.
"He was always real short and stocky," Ken Kasper said. "He made a hell of a center though."
Brett still kept the interest of playing quarterback one day, a goal that came from a familiar source to Wisconsin sports fans.
"Growing up watching the Packers, watching Brett Favre, and having the name Brett obviously playing into my want to play quarterback," Brett said. "I just always had the interest in playing quarterback."
Unable to play the position he was hoping for in football, Brett continued to expand his horizons in baseball, tennis, basketball and football. They were also the four sports Brett took up at Two Rivers High School for the Purple Raiders, where he graduated with a total of 11 varsity letters.
"Baseball was always my favorite sport until my junior year of football," Brett said. "Playing on the varsity level and having success played into that, but there was something about baseball that was always ahead of football to me."
Brett's favorite sport eventually did become football during his junior year, as that was when he got the chance to start on varsity. However, it was not at the position he was hoping for just yet: tight end.
Although continuing to practice with the quarterbacks on the team, Brett excelled at tight end enough to make the Wisconsin Football Coaches Association All-State team. But, when the Purple Raiders' senior quarterback graduated the following season, Brett was finally given his chance.
Taking the Purple Raiders to the playoffs his senior year, Brett finished with enough recognition to be selected to play in the WFCA All-Star Game.
"My high school coach saw my talent and knew how to use it," Brett said. "He could actually see how good I was because I always think I am worse than I am. I always try to be the best and try to be perfect. But throughout my whole senior season he would always tell me, 'You're leading the state in all this stuff.' I didn't even care to look at that and I didn't even expect it at all."
Although it took 18 years of Brett's life for his football abilities to finally be realized, there was one person in Brett's life who had known all along what Brett could do: his father, Ken.
"I'll never forget this: the day Brett was born here at Two Rivers Hospital, he comes out as this little pork-chop kid and my dad comes in the room and I give him a big hug and I say: 'I got my football player,'" Ken said.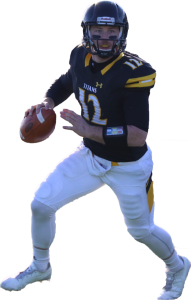 Starting his legacy at UWO
With high school graduation soon approaching, Brett knew he had to begin to narrow down his choices and make a decision. Luckily for him, the choice was easy.
"Oshkosh was actually the first school that talked to me about playing college football," Brett said. "I never really thought to consider playing college football until coach [Pat] Cerroni and coach [Craig] Smith at the time. They actually came to one of my games. Just to see that, to see the head coach at my game, must mean that he really cares about getting a kid like me."
The whole-hearted feeling Brett had toward UWO was mutual as Cerroni said the first time he watched him play, he got a feeling that Brett was made to be a Titan.
"I was sitting in my office one summer and I put on some kid's film from Two Rivers, and I just saw this kid throwing the ball and I found out he didn't have a lot of film since he was a tight end the year before," Cerroni said. "Since the [Division II and Division I] schools do all their recruiting the junior and sophomore years of high school Brett kind of fell under the radar. I just had a feeling he was a diamond in the rough."
Coming into training camp, Brett quickly realized he was against numerous other freshman quarterbacks for the job. One of them being eventual star running back, and good friend to Brett, Dylan Hecker.
Hecker, 2013 Winneconne High School graduate with four varsity letters, came to Oshkosh with the hopes of one day playing quarterback as well. Eventually finding his role at running back, Hecker was not only against Brett for the position, but he was also paired as his freshman roommate, a situation which Brett says was unique.
"Right from the go it wasn't necessarily awkward, but it was just a more unknown feeling of what was going to happen," Brett said. "We actually hit it off right away and we hit it off with Sam [Mentkowski] right away, too, and we just stuck together."
Mentkowski, the Titans eventual all-time leader in catches, receiving yards and touchdowns, and Hecker, the Titans eventual program leader in rushing scores, both took to Brett and the three decided to stick together eligibility-wise. The decision to stick together meant grey-shirting their true freshman season and holding off playing until their sophomore year.
After the grey shirt season, Brett's time as the backup began with an 0-3 start to the nonconference portion of the 2014 season behind starting quarterback Dylann Rauch. However, when UW-Stout came to Oshkosh to kick off the Titans' conference season, things would never be the same for the program.
Three drives into the Stout game, Rauch was forced to leave due to injury. With the ball on the Stout 47-yard line on second down, Brett managed to lead the offense to a field goal. He finished the game 18 of 24 with 192 yards, one touchdown and the victory.
The Titans finished the 2014 season 6-4 overall with Brett's record being 6-1, and although the team did not make the playoffs that season, Cerroni said he could tell the future was bright for the program.
"We just kept winning games and he just kept improving," Cerroni said. "It's kind of a thing where you say, be careful what you wish for. He wanted the starting job his freshman year and he got it. I don't know if that was necessarily the way we wanted it, but it sure worked out in our favor."
Brett said he knew he was only improving and greater things were to come. However, what Brett did not know at the time was that his future had much in store for him both on the field and off.
Be The Match
Through the national bone marrow donor program Be The Match and Cerroni, Titan players are encouraged to sign up to be potential bone marrow donors.
While on the donor list in late fall of 2014, Brett became aware of the news he was very likely the match to a patient, and despite being in the midst of his stardom as a Titan, he said he was fully prepared to do whatever he needed to do to help.
"I didn't really realize how real it was until I got the call," Brett said. "They couldn't release any information on the patient except for the age and gender, and as soon as they did that I realized it was for real. I didn't ask any questions; I was all for it. Somebody needed me and I was on the list, so why not?"
After numerous doctor visits for testing, Brett underwent the procedure in early 2015. With little back pain and only being out of offseason training for two weeks, Brett was healthy and 100 percent again, knowing only the age and gender of the patient he had just donated for: a young girl.
It was not until nine months after the procedure that Brett was able to communicate with his match. However, what started with simple emails lead to the eventual meeting of Brett and his match: 10-year-old Phoenix Bridegroom, who was able to come to Oshkosh in fall of 2016 with her family for a game and to meet Brett for the first time.
"The first person we spoke to on the phone regarding all this was actually coach Cerroni," Phoenix's mother Tammy Bridegroom said. "He called me and asked what he needed to do to bring us to Oshkosh. We got to meet Brett, his family, the football family and experience the Oshkosh community. It was just amazing."
Although suffering a relapse soon after visiting, Phoenix is now confirmed healthy. Tammy said the sense of support and love that the Kasper and Oshkosh family has provided has been inspirational.
"Brett is an amazing person inside and out, and to see her have this person to look up to is just wonderful," Tammy said. "It warms my heart. From the first moment her and Brett met, you could just see the admiration she had for him. His demeanor is so loving and kind and gentle that he was just so approachable. She had already known he was her hero before they even met."
Achieving greatness
Despite missing the playoffs for the second-straight year in 2014, the following season proved otherwise. With Kasper at the helm during his sophomore season in 2015, the Titans managed to go undefeated in conference play to become WIAC champions and make the team's first playoff appearance since 2012.
Although being forced to leave a game against UWW with an injury and missing the next game too, Brett still managed 12 starts. His season totals of 27 touchdowns, 2,968 total yards and 247.3 yards per game was enough to win WIAC Offensive Player of the Year.
The Titans managed to make it to the quarterfinal round of the Division III championship tournament before falling to Whitewater by a score of 31-29 in Titan Stadium. Brett said although the loss was difficult, he knew they were on their way to a special season.
"My junior season was a lot different because we didn't know exactly how it would go because we knew we had the pieces, we just didn't know how good we could be," Brett said.
Unknown to Brett at the time was that the 2016 team would end up being so good it would not only make it to its first semifinal game but to the first Stagg Bowl for the program.
The Titans entered the playoffs as a wildcard with a conference record of 6-1 after losing in Whitewater. However, the team was dealt fortunate circumstances that allowed them to only have to travel once in the quarterfinals to face St. Thomas.
Defeating the Tommies 34-31 in a game where Brett threw three touchdowns, the only obstacle left in UWO's way to earning a berth to the Stagg Bowl was John Carroll.
With the more impressive schedule and after defeating John Carroll earlier in the season, the Titans were able to host and eventually win, 10-3.
Although falling short in the Stagg Bowl to Mary Hardin-Baylor, 10-3, Brett said the experience was something he won't soon forget.
"I never pictured myself even getting to the Stagg Bowl," Brett said. "Being in Salem for the week and just taking it all in was amazing. We took it all in and had a lot of fun."
Despite falling short of their goal of returning to the Stagg Bowl in 2017 after losing in the semifinal round to Mount Union, the 12-1 Titans were still able to leave their mark.
Finishing his career with a WIAC record passing efficiency of 161.8, Brett is second all time in WIAC passing yards with 9,786 and third all time in the conference with 89 touchdowns.
Even with rewriting the history books and being the Gagliardi Trophy winner of 2017, Brett still said what he will cherish is the sense of community the program has provided him with the most.
"Having the individual success and getting the awards is awesome, but just having the team success behind it is what means the most to me," Brett said. "We don't have much of an offseason. The only time we get to celebrate is after a win, and being able to do that with the guys is something I'm going to miss and remember forever."
As for his mother, the moment Linda said really stood out to her and put it all into perspective came during the Gagliardi Trophy ceremony, Brett's final event as a Titan.
"Brett was sitting next to me on my left and coach [Luke] Venne was next to him and the two of them never stopped talking," Linda said. "I just admired that so much. The next day I talked to Luke and he said Brett had always sat in the same spot for team meetings and he always had the same Two Rivers mug with him, and Luke said, 'When I came into the office the other day and that Two Rivers mug was gone, it hit me. He's gone. Brett's done.'"