Track places in top four in Whitewater
Titans produce third-and-fourth place finishes in the Midwest ELITE Invitational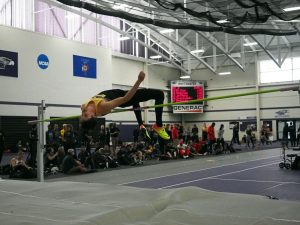 The UW Oshkosh men's and women's track teams finished third and fourth, respectively at the Midwest ELITE Invitational in Whitewater on Saturday.
The men's team finished with a total of 84.5 points, falling behind conference opponents UW-La Crosse, who won the team title with 140 points, and UW-Whitewater, who finished second with 97.5 points.
UWO topped the podium a handful of times Saturday en route to its third place finish.
Senior pole vaulter Devan Gertschen won his event with a height of 16 feet, 4 3/4 inches — the third-highest height in the nation this year — and earned himself Wisconsin Intercollegiate Athletic Conference Field Athlete of the Week honors. Junior sprinter Ryan Powers claimed first place in the 200-meter dash with a time of 22.06 seconds. Powers then combined with junior Christian Lopez, senior Nick Freitag and junior Justin Skinkis to win the 1,600-meter relay with a time of 3:22.67.
Freshman distance runner Spencer Muffler said his teammates' strong performances are indicative of the team's commitment to getting better throughout the season.
"We're improving week by week," Muffler said. "We're getting to know each other more, which helps to motivate each other and motivate ourselves."
The UWO women's team was led by a strong outing from senior sprinter Emily Reichenberger. Reichenberger outran all competitors she faced in both the 60-meter dash and 200-meter dash, finishing with times of 7.82 seconds and 25.46 seconds, respectively. Her 200-meter dash time is the nation's fourth best, helping her earn this week's WIAC Track Athlete of the Week.
The women's team produced a slew of other impressive performers, including junior sprinter Olivia Seeley, who finished third in the 200-meter dash and second in the 60-meter dash. Junior distance runner Cheyenne Moore finished second in the 5,000-meter run with a time of 17:11.97, good for ninth best in the nation.
Reichenberger said the team's solid showing on Saturday foreshadows the Titans' impact at the conference meet in the coming weeks.
"We really went out there and just gave it our all," Reichenberger said. "Knowing that we did have our most intense conference schools there like La Crosse and Whitewater kind of being two of our rivals, it's exciting because we haven't really been in that atmosphere yet. We've gone against other WIAC schools, but I felt like this was sort of a mini-conference."
The Titans will get a better look at many of the same opponents on Saturday, Feb. 17 during the Titan Challenge, UWO's home meet. The meet marks the final regular season meet before the WIAC Indoor Championship in Stevens Point begins on Friday, Feb. 23.
Head coach Justin Kinseth said he is impressed with his team's performance at this stage in the season but will continue preparing them for the unique challenges of the postseason.
"We've finally reached the top of that hill where we're starting to actually be able to roll downhill and chase [personal records]," Kinseth said. "That's what I tell the kids all the time: when the hill gets steeper, we just gotta pedal harder."