Swim and dive breaks records
The UW Oshkosh swim and dive team was in action at the Wisconsin Intercollegiate Athletic Conference championships in Brown Deer this past weekend. The swim team was competing for a chance to advance to the NCAA Division-III Championship on March 21 in Indianapolis, while the dive team was hoping to secure a spot in the D-III Central Region Diving Championships on March 2 in Chicago. The men's and women's swim teams each came up short and will not be moving on to the NCAA Championship, while the dive teams will be moving on to the Central Region Diving Championship.
Men's team
The men's team was led by historic performances by freshman swimmer Jarrett Lieder, who set three new UWO records during this weekend's event. Lieder swam to a time of 4:42.55 in the 500-yard freestyle event, which placed him sixth in the event and set a new school record. That was not the only record of the night as Lieder earned second with a time of 16:31.67 in the 1,650-yard freestyle event. Lieder also spread the wealth of setting new records with teammates as he swam with freshman Josiah Vandenberg, junior Ian Sewell and sophomore Trevor Jacobs to a fifth-place tally in the 800-yard relay team freestyle event with the record-setting time of 7:11.15.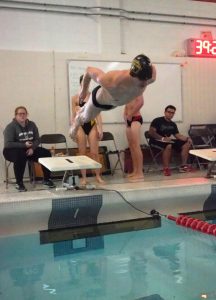 Vandenberg locked in three top-16 performances as well with a time of 2:01.22 in the 200-yard individual medley that placed the freshman swimmer in 16th. Another top performance for Vandenberg came with a 13th-place finish in the 100-yard butterfly, and he came in 11th in the 200-yard butterfly.
Senior Grady Hilgendorf and sophomore Bryan Solomon both earned two top-16 performances at the championship as well. Hilgendorf placed in 12th with a time of 59.99 seconds in the 100-yard breaststroke event and clocked in at 16th place in the 1,650-yard freestyle event with at 17:43.42. As for Solomon, he tallied a 15th-place finish in the 100-yard butterfly and 13th in the 200-yard butterfly.
Despite multiple swimmers contributing multiple top-16 performances, the men's swim team placed fifth in the standings with a culmination of 245 points, which was not enough to move on to the championship. UW-Stevens Point continues its stranglehold on the conference with its 19th straight WIAC championship with a score of 905 points. But with excellent performances from UWO young swimmers, it could be only matter of time before UWO places higher.
Lieder said with the season coming to a close, it is especially hard, considering the amount of seniors who will be leaving.
"We are going to [miss] a lot of our seniors, especially when you work your tail off with each other and with your lane mates," Lieder said. "It is sad to see them go because you love them and you died with them in practice every day."
Head coach Christopher Kulp, who was just named the 2018 WIAC women's co-coach of the year, recapped the season and said both teams were able to overcome a lot throughout their respective seasons.
"From a team standpoint, we went through some adversity this season," Culp said. "For example, we lost some members on the men's team side and we had a couple bumps in the road. I think when a team goes through something like that, it can have a tragic effect on the team I think it brought us together more effectively. Every day at this meet, we knew where we stood and everyone cheered each other very well and that brought us together."
Women's team
The women's swim team put in its best effort at the WIAC championship since 2005 with a fourth-place team finish, totaling 409.5 points.
This historic performance saw a flurry of women's swimmers take top-10 and top-16 finishes. The best finish came from senior swimmer McKinzie Halkola, who placed second in the 200-yard backstroke with a time of 2:09.13.
Sophomore Sydney Challoner also contributed a top-5 performance with a third-place finish in the 200-yard backstroke at 2:28.87. She added to that by clocking in a fourth-place finish, which saw her swim her way to a 2:14.22 time in the 200-yard individual medley.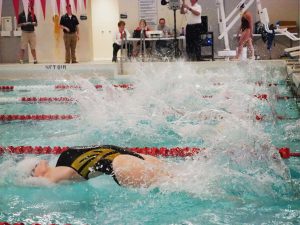 Freshman Rebecca Birriel joined the strong performance with her own top-five performance in the 400-yard individual medley with a time of 4:46.73 that placed her fourth among other swimmers in the event. Freshman swimmer Jennifer Lutz made a habit of placing in the top-10 in three events, starting off with sixth-place finish in the 100-yard butterfly and followed that up with a 10th-place tally in the 100-yard backstroke. Lutz concluded her spectacular day when she raced her way to seventh place in the 200-yard butterfly.
The women's team enjoyed a lot of success at the event, but the team's efforts could not bring home a victory as UW-La Crosse earned its seventh-straight title with 863 points. Despite the loss, the team was proud of its efforts.
Halkola said the team was very aware of the record it set and helped drive them to perform better.
"We were aware because we were actually calculating the points before our last relay to see how we were going to do," Halkola said. "It was exciting and actually gave people some motivation towards the end of the meet and helped push themselves to score more points."
Dive team moves on
The dive team excelled at the event with multiple top-five performances. Junior Gabrielle Kraus placed fourth and fifth in the 1-meter and 3-meter dives by scoring 400.15 and 365.75 points in the respective events. Sophomore Johnna Seelman also earned two top-16 finishes in the conference meet.
On the men's side, freshman Matt Wilke matched Kraus's performance with two of his own top-five performances. His first came in the 3-meter dive with score of 443.05 points that placed him third. He followed that performance up with a even better one in the 1-meter by scoring 460.65 points, elevating him to second.
The diving team can use this performance to help prepare for the Central Region Diving Championship in a few weeks at the University of Chicago.