Women advance to second round
The UW Oshkosh women's basketball team is moving on to the second round of the WIAC playoffs after its first-round win over UWRF.
After earning the third seed in the Wisconsin Intercollegiate Athletic Conference postseason tournament, the University of Wisconsin Oshkosh women's basketball team hosted UW-River Falls and came away with a 64-51 victory to move on to the second round.
The Titans earned the third seed after playing against UW-Stout and earning the team's ninth conference and 20th victory of the season.
Titans move on in playoffs
Tuesday night's contest against UWO and UWRF was not close early on as the Titans jumped out to a 22-7 lead after the first quarter. Oshkosh's offense kept the pressure on the Falcons, forcing the team to use two timeouts early to try and stop runs.
Senior guard Emma Melotik and junior forward Melanie Schneider tied for team lead in scoring after the quarter with five apiece, with Melotik having a perfect two-of-two shooting performance.
Senior guard Jaimee Pitt, who earned eight points by going 8-11 at the charity stripe, said the team was able to combine its main focus of defense with an offensive output to get out to a huge lead.
"I think our defense is our biggest focus all the time and we had to get stops," Pitt said. "That led into our offense because once we get stops we get more hyped up and our offense kind of takes over from there."
Going into halftime, the Titans opened up their lead to 38-17. The Falcons were held to a dreary 8-26 shooting from the field, equaling out to 30.8 percent. In comparison, UWO held a sharp 53.8 percent shooting line in the first, but regressed in the second to hold a 37 percent overall shooting percentage.
Junior guard Chloe Pustina contributed seven points, four rebounds and two assists in 33 minutes and echoed Pitt's statement about what helped the team get out to a fast start.
"I think it was a little more defensive," Pustina said. "We had some shots that were falling, and it seemed like they were making everything, so on the defensive end, we had to work and make sure we kept everyone in front of us."
In the final two quarters, Oshkosh was outscored by six and two points, respectively. This brought the gap to be as close as seven with 2:37 left in the game, but strong free throw shooting helped the team keep the Falcons at bay to pull out the win.
Leaders for the game for UWO were senior forward Eliza Campbell, who scored 10 points on 3-11 shooting, and also brought down seven rebounds and had one assist, and Schneider, who also put up 10 points, with eight coming from the charity stripe.
Other contributions came from sophomore guard Olivia Campbell, who filled the stat sheet by adding five points, five rebounds, five assists and two blocks in a game-high 36 minutes.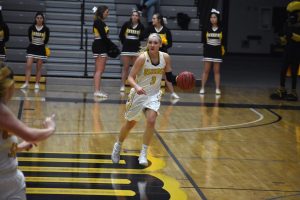 UWO keeps Stout winless in conference
UWO played host to the UW-Stout Blue Devils and came away with a 71-55 win on Saturday. This was the final regular season contest for all WIAC teams, which helped determine the postseason seeding for the start of the tournament Tuesday.
On Senior Night, the soon-to-be graduates led the Titans to victory as the group of five players combined for 35 points in the win.
Eliza Campbell, starting in her final regular season game, scored 16 points on 6-of-12 shooting, including four free throws. Eliza Campbell also brought in a game-high nine rebounds, dished out one assist and had one block in 27 minutes.
Off the bench, Pitt knocked down three of six shots on her way to six points Saturday. She also added three rebounds and two steals in 19 minutes. Also coming off the pine, senior forward Madeline Staples added 13 points, making five of her eight shots, and bringing in five offensive boards.
Oshkosh's reserve unit produced the difference in the victory, as UWO earned 32 points and 18 rebounds from its bench; in comparison, Stout only got four points and six rebounds in the loss.
The Titans led in most categories Saturday as the team earned more rebounds and assists, forced more turnovers, scored more points off turnovers, had more second-chance points and produced more points in the paint.
WIAC playoffs and beyond
After Wednesday's victory, the team will travel to play today against UW-La Crosse, the second seed. Last year's WIAC championship tournament resulted in a second-place finish for UWO as the Titans dropped a close game to UW-Whitewater.
After the finalization of the conference playoffs, the seeding for the NCAA Division-III tournament will be determined and UWO will find out where, when and who they will play against.
Head coach Brad Fischer said the team has what it takes to be successful, but it must stick to what it knows.
"We just gotta be really consistent this time of year and we just gotta trust that the stuff you worked on in practice will help get you through it," Fischer said. "There have been times that we overthink things and try and overanalyze too much and get out of playing and competing on each possession. If you lose the fundamental piece and you let fatigue bother you or if you let a good team get you out of your stuff, all that stuff can go haywire pretty quick."