A decade of dominance
After defeating UW-Whitewater, the UWO men's club volleyball team has earned gold.
The UW Oshkosh men's club volleyball team captured its 10th straight Wisconsin Volleyball Conference regular season title with an exciting victory over UW-Whitewater last Thursday.
The Titans 25-15, 25-16, 18-25, 20-25, 15-12 win over the Warhawks marks a decade of domination for the men's volleyball team.
On the season, the team is 20-8, having won eight of its last 10 contests. The only losses have come at the hands of 13th-ranked DePaul University and 17th-ranked Virginia Tech University.
Junior Jake Martin led the team with 11 digs and two aces while sophomore Nick Davies led the team with 18 kills, followed by graduate student Brandon Schmidt with 10 kills. Davies also had 22 assists and two blocks.
Senior Peter Nordel had 10 kills and four blocks, and senior Sammy Pedersen had eight digs.
Junior Matt Pedersen, who led the team with 27 assists, said the team knows what it takes to stay focused and achieve goals.
"We stay motivated by coming into practice each and everyday and tournaments with one goal in mind, that all of this is in preparation to win a national title," Pedersen said.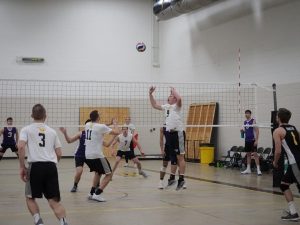 Senior Sam Moua had nine digs and three aces in Thursday's game, and said he looks forward to the rest of the season with the team and the national title.
"On our Division I team, there's only three players who have one or more national championships," Moua said. "I've always wanted [to] play for those who don't have one so they can finally get the feeling of winning their first national championship because it's the best feeling ever."
Head coach Will Brydon, who is in his first year leading UWO, said the team has displayed many great qualities over the course of the season.
"I believe the team's work ethic and heart has a lot to do with this success," Brydon said. "Our players work hard to be the best they can be, which is one unique attribute of our program, but more importantly, they genuinely love playing the game with each other."
Brydon said the legacy of the team is something continually displayed on a year-to-year basis, especially with the types of success each team accomplishes.
"Oshkosh men's volleyball is a family, and that camaraderie from team to team, season to season, establishes the tradition of success that we are a part of today," Brydon said.
Coming up for the Titans is the Las Vegas Open, which occurs March 16 and 17. The team plays four more tournaments over the remainder of the season with an individual WVC conference match against UW-Eau Claire on March 27 mixed in.