Titans mow down conference opponents
The UW Oshkosh softball team is on a seven-game winning streak, which began after losing one game to UW-Platteville on Saturday. UWO turned around to win its second game against UW-Platteville, then beat UW-Eau Claire in two games April 29 and beat UW-Stout in a double header on Monday. UWO finished its regular season games strong, defeating UW-La Crosse in two games on Tuesday.
Platteville
UW-Platteville scored three of its six runs in the fifth inning and only allowed the Titans to score once in the first game. The final score was 1-6. UWO senior Tanya Hammitt scored the only point of the game after UW-Platteville pitcher Ashton Hoeppner walked senior Erika Berry with the bases loaded.
In the second game, UW Oshkosh got the lead early when sophomore Natalie Dudek hit a double to center field in the first inning to send Berry and sophomore Acacia Tupa to home plate.
In the third inning, UWO scored four of its seven runs with Berry, Dudek, junior Kaitlyn Krol and sophomore Amanda Mcilhany all scoring. UW Oshkosh senior Brianna Witter scored the final run in the sixth inning. The final score was 7-3, Titans.
Witter said she has learned a lot about selflessness and team work leading to success throughout her time as a UWO softball player.
"The success we have experienced is directly attributed to how we rely on each other as teammates," Witter said. "We understand the importance of playing for each other with the focus on our common goals instead of our own personal gain. We have built our team up on a foundation of trust in one another."
Eau Claire
UWO traveled to Eau Claire on April 29, where it defeated the Blugolds in both games of the weekend's second double header with scores of 5-2 and 8-5. Krol hit a sacrifice fly in the fourth inning, allowing Tupa to score. Tupa then hit a home run in the sixth inning of the second game before the Titans scored six runs in the seventh inning.
Oshkosh hosted UW-Stout April 30, and won both games it played. The Titans held victories of 3-1 and 11-4 over the Blue Devils. All three runs in the first game came from home runs, one by Tupa in the first inning and freshman Kailee Garstecki in the seventh inning, bringing sophomore Claire Petrus home as well.
In game two of the night, the Titans recorded four of its 11 runs in the fifth inning. Junior Abby Menting hit a triple, scoring Krol, Tupa and Mcilhany. Sophomore Natalie Dillon then hit a double, sending Menting home to score and wrap up the inning.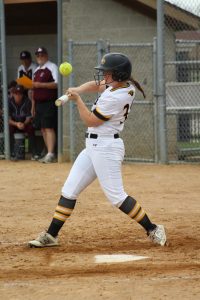 La Crosse
The Titans hosted UW-La Crosse on Tuesday for a double header when they beat the Eagles in both games, 4-3 and 4-2. In the second game, La Crosse's Katie Klein gave up the winning four runs in the sixth inning. Freshman Carly Szada, Witter, Mcilhany and Garstecki all scored for the Titans.
UWO has a 10-4 record in conference play, only losing two games UW-Whitewater and one each to UW-River Falls and UW-Platteville. Oshkosh moved up in Wisconsin Intercollegiate Athletic Conference rankings to second place, just behind UW-Whitewater. Assistant coach Lynn Anderson said she knows the team has strong goals and knows that each season comes with highs and lows.
"It's a mindset thing. We can't focus on what may or may not happen or even what did happen," Anderson said. "It's accepting that there will be great moments and there will be failure moments, but to remind each other that they are great players and this is a great team. Whatever we focus our attention on day-in, day-out will be what we achieve."
Looking ahead
With as much time as it took for the softball season to start, the end is approaching fast. The Titans are looking forward to the WIAC Championship this weekend in Whitewater.
Krol knows the team is fired up and feeling the heat coming off the seven-game winning streak. The team is returning to the championship highly ranked and is prepared to take on other top-ranked teams.
"We are looking forward to playing a lot of good teams we know [this weekend]," Krol said. "We're expecting to do big things against them and we know that every game that we take is going to be a good game we have to play to the end and not let up on anything."