Women's Volleyball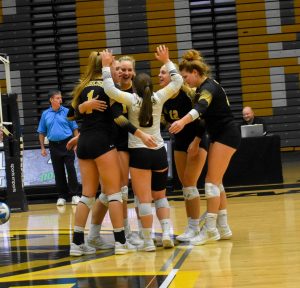 The UW Oshkosh women's volleyball team finished its 12th game of the season on Wednesday as they beat two non-conference opponents in Lawrence University and St. Norbert College.
The team earned wins against both Lawrence University and St. Norbert College while only losing one set of the evening.
Emma Kiekhofer led the team with 20 assists during the game against Lawrence.
Senior outside hitter Tina Elstner tallied 31 total attacks against Lawrence while posting nine kills and 11 digs.
Senior middle back Carly Lemke led the Titans in total points with 14.0 points.
The Titans went 1-3 over the weekend, picking up a 3-0 win against Martin Luther College on Saturday, Sept. 8, but falling to Elmhurst College (3-2) and Lakeland University (3-1) on Friday, Sept. 7, along with their last match against University of Chicago (3-1) on Saturday.
Despite the losses, the Titans are keeping a positive outlook on the season as a whole and on the Pizza Hut Classic.
UWO senior outside hitter Renee Rush explored her strengths and high points of the weekend.
"I believe my personal high point during the Pizza Hut Classic over the weekend was the third game versus Lakeland," Rush said. "I feel as though that was the game that I found my groove and really went out with fire and urgency to want to win every single point and had the confidence to do so."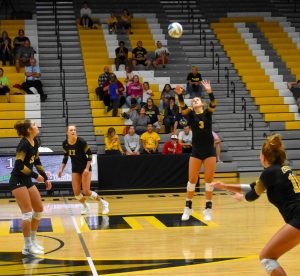 Losing at home is never a good feeling; however, the Titans went into the tournament 2-1 at home. With their home record now 3-4, senior Carly Lemke reflected on the start of this season compared to seasons past.
"I think that this season compared to others has hit a rough patch early, which was at the Pizza Hut Classic," Lemke said. "Usually we win at Kolf much more than was shown this weekend, so I think we have to just keep working hard in the gym to excel through the rest of the year."
The Titans ability and willingness to interchange positions on the court showed hope to head coach Jonathan Ellman, who said the team has potential as the season moves forward.
"Our character and sideline energy throughout the entire weekend was upbeat and positive. Together, these things led to tremendous growth. As we move forward, our goal is simple, to continue to learn and make positive change," Ellman said. "Regardless of the result, that is always our goal."
The Titans look to continue striving to reach that goal in the coming weeks. On Wednesday, Sept. 19, conference play begins as UWO heads across the state to face the UW-La Crosse Eagles.