UWO tennis suffers loss to UW-Whitewater
The UWO tennis team beat UW-River Falls 8-1 and fell to the reigning Wisconsin Intercollegiate Athletic Conference champions, UW-Whitewater, 9-0 over the past week.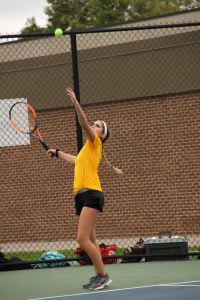 Due to a rainy forecast, the match against UW-Whitewater was moved to Oshkosh North High School, where the Warhawks swept the Titans 9-0. Head coach Robert Henshaw said he was impressed with the way the Titans played given their current situation.
"We have a couple injuries right now, so nearly everybody on the team played out of position; they mostly played up," Henshaw said. "But that being said to have two players take a set off of this team, we played tough and competed really hard."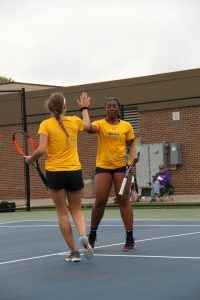 UWO freshman Michelle Spicer put up a fight as she pushed UW-Whitewater's No. 3 opponent, Madeline Slicker, but still dropped the game, 6-7, 6-3.
Henshaw said that the scorecard doesn't always tell the full story of how a match went.
"Sometimes scores aren't always reflective of how close a match actually is," Henshaw said. "My five player today lost 2-1, and she was out there for nearly two hours. Those games were obviously very close. If we can translate and win the big point, if we can win break points and game points as opposed to going to Deuce, then we're doing great things."
The matches against River Falls were close as each player had to battle to come away with the 8-1 team victory.
UWO juniors Alyssa Leffler and Samantha Koppa, Spicer, junior Monica Micoliczyk and senior Ashlee Polena all earned victories for the Titans against the Falcons.
Looking ahead, the Titans have a quick two-day turnaround and will face UW-Stevens Point on Thursday, Oct. 4 in Stevens Point.
The WIAC gauntlet continues as Oshkosh faces UW-Stout (Friday, Oct. 12) and UW-Eau Claire (Saturday, Oct. 13) before the WIAC Championship in Madison on Saturday and Sunday, Oct. 20 and 21, to close out the fall season.