Priebe receives WIAC golf-scholar award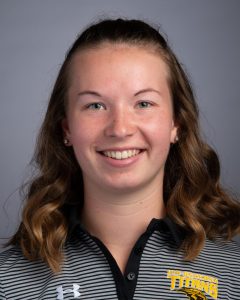 Senior Kayla Priebe earned the 2018 Wisconsin Intercollegiate Athletic Conference Judy Kruckman Women's Golf Scholar-Athlete Award.
Priebe earned the award at the women's golf WIAC championship meet where she placed sixth out of 61 competitors.
The accounting major was given the award for her performance on the course and for her 4.0 GPA in the classroom.
Priebe received a second-team all-WIAC award a season ago and first-team all-WIAC recognition in 2016 and 2015.
Priebe also won WIAC Player of the Year and finished second at the WIAC championship in 2016.
The Fox Valley Lutheran High School (Appleton) graduate has never finished lower than sixth in the WIAC championship. Her other finishes in the event include two second-place finishes in 2015 and 2016 and a third-place finish in 2017 to go along with her sixth-place finish this year at the event.
Priebe said she is excited to come back in future years to watch her younger sister and the rest of the team compete.
"This entire final season, especially playing with my sister, will always have a special place in my heart," Priebe said. "It has been so fun playing alongside her, and it has been especially fun with both of us having very successful seasons. I'll miss playing with her, but I can't wait to come back and watch this team over the next few years because they have so much potential."
Head coach Liza Ruetten said she was proud of her senior leader for coming into the season focused and ready to compete.
"Priebe came into this year with a mindset of placing herself at the top of the leaderboard for the entire season," Priebe said. "It was fantastic to watch this senior reach that goal and help lead this team to one of our most successful seasons in the past seven years."
To be nominated for the award, athletes must have at least a 3.5 GPA, be in their last year of competition and have competed for at least two years.