Cross-country hosts Kollege Town Invitational
The UW-Oshkosh cross-country team competed in their largest meet of the season this past Saturday, Oct. 13. The team traveled to Lake Breeze Golf Club in Winneconne to compete in the UW Oshkosh Kollege Town Sports Invitational.
The Invitational was a pre-national meet due to Lake Breeze Golf Club also being the site of this year's NCAA Division III Championship. Nearly 60 teams showed up to run the course.
Head coach Eamon McKenna said the field of that many teams poses a unique challenge compared to other meets during the regular season.
"The field size was huge, and adding to the challenge this past weekend was that the course was wet and muddy," McKenna said. "Times were slow, people were losing shoes, falling down and dealing with the additional difficulty of uncertain ground. With that being said, a race of that size and caliber is an awesome opportunity for our young teams to gain experience and to race against the best. Our teams showed that they will not back down or get nervous against high-quality competition, which is a great sign of things ahead."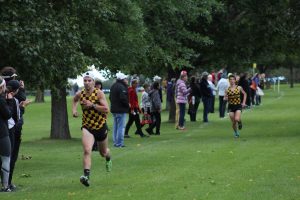 Sophomore Andrew George was the third-fastest runner for the Titan men. With a time of 26:47, George placed 134th individually and third for UWO, which placed 20th of the 50 teams on the men's side of the meet.
George said he focused on closing the gap from the teammates ahead of him to minimize their points.
"I was also focusing on matching up with as many WIAC runners as I could see," George said. "The size of the meet only made me more excited because there were just more people to beat. It helped me, if anything."
The Titan women placed 21st out of the 52 teams on their side of the Kollege Town Sports Invitational. Sophomore Hannah Lohrenz finished 78th individually and second for the Titans with a time of 23:34.
Lohrenz said she focused on staying engaged throughout Saturday's meet.
"It was a very muddy course, so a lot of us on the team prepared mentally for it knowing that it was going to be difficult and that we were going to have to push ourselves harder than usual," Lohrenz said. "Because it was such a large meet, we knew that we had to keep moving up throughout most of the race because it was going to be so crowded at the start. Since we talked about the amount of racers before we got to the meet it was easier to not get so caught up in the size of the race."
Coming up for the Titans is their last meet of the regular season. The Titans will run Friday, Oct. 19 in the UW-Oshkosh Open at the Lake Breeze Golf Course in Winneconne, WI.