Titans drop two games in WIAC play
The UW Oshkosh women's soccer team lost a pair of conference matchups last weekend after the Titans fell to UW-Eau Claire on Saturday, Oct. 13 and lost to Stevens Point on Wednesday, Oct. 17.
The Titans gave up three early goals against the Pointers as UW Oshkosh fell against UW-Stevens Point on Senior Night with a score of 3-1.
UWO forward Mallory Knight scored the lone goal for UWO after she scored off an assist from UWO freshman forward Alyssa Gunderson. Knight leads the team in goals with six this season.
The Titans shot the ball more than the Pointers as UWO compiled 22 shots in match compared to UW-Stevens Point's 14 shots.
UW-Stevens Point committed nine fouls in-match compared to UW Oshkosh's four. The Pointers were given two yellow cards in the game.
The loss drops the Titans to a 5-9-1 record and a 2-3 record in Wisconsin Intercollegiate Athletic Conference play.
The Titans have three seniors on their roster this year, Alexis Brewer, Erin Gruber and Taylor Arnold.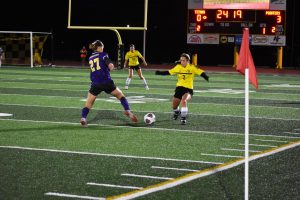 UWO head coach Erin Coppernoll said it's always bittersweet when she thinks about losing her senior leaders after working with them for four years.
"I'm always thankful and proud of them when they commit to something for four years," Coppernoll said. "I think that says a lot about themselves. It shows that they enjoy the game, they enjoy the program and that they enjoy each other enough to want to push each other to be better for four years."
UWO midfielder Maddie Morris said the offensive struggles can be fixed near the opposing goal.
"We need to focus on our final pass and decision making in the final third of the field," Morris said. "We work hard to get the ball up the field but struggle to get the correct shot or pass on so that is a spot for improvement."
Morris said the offense needs to be more creative when trying to find open lanes for attacking opportunities.
"Creating more dangerous runs and looking to find the penetrating pass is a way that we can increase our offense," Morris said. "Going forward in the attack if we have many people in dangerous positions and forcing high pressure onto the defense is a way we can get around teams."
On Saturday, the Titans fell to the Blugolds by a score of 1-0 giving up the only goal of the game in the first half.
UW-Eau Claire's Emily Sullivan scored the match's only goal after she scored in the 36th minute of play.
The Blugolds were the more aggressive team on the offensive side of the ball, compiling 17 shots with seven of them being on goal. The Titans were held to five shots and three corner kicks.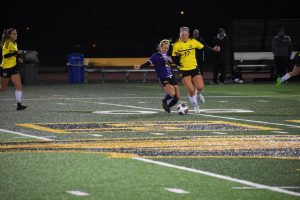 UWO had three shots blocked by Blugolds goalkeeper Sammie Lefaive, shots from UWO freshman forward Kylee Brown in the 50th and 54th minute and by UWO midfielder Maddie Hill in the 57th minute of action.
UWO goalkeeper Erin Toomey saved six of the seven shots she encountered.
Coppernoll said last weekend wasn't the best performance she has seen from her team. Coppernoll also said playing on grass as opposed to turf affected them in Saturday's match.
"Saturday wasn't our best game," Coppernoll said. "Playing on grass was kind of a bad concoction."
Coppernoll said the goal they gave up on Saturday was an impressive shot by Sullivan.
"The goal we gave up was a really nice goal by Eau Claire," Coppernoll said. "I'd rather have that than some of the goals we've given up where it was our fault."
UWO continues WIAC play with its final home match against UW-River Falls on Saturday, Oct. 20 at J. J. Keller Field at Titan Stadium.