Beyer beware
The Titan cornerback has been lights out since returning from injury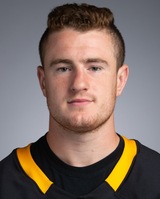 UW Oshkosh football defensive back Kollyn Beyer played every snap versus UW-La Crosse last Saturday. He was only targeted four times out of the Eagles 44 pass attempts. Of those four targets, he had one interception, one pass break up and zero balls were caught by the Eagles receivers he defended last Saturday.
Beyer said the defensive scheme and studying film allowed him to shut down the Eagles on Saturday.
"All of it comes from our coaches putting us in the right spots," Beyer said. "Cerroni will call out plays before they even happen. As the game goes on I figure what they're trying to do which makes it easier to play certain offense plays."
Beyer dropped a potential pick six in the first quarter but that play Beyer said, allowed him to intercept the ball in fourth quarter.
"I was jumping routes early in the game," Beyer said. "They saw that so they thought I would jump again. I baited them into it and sagged off, cut underneath and picked it off."
Head coach Pat Cerroni was excited to see Beyer intercept the a pass but was quick to critique him.
"I was happy for Kollyn to get a pick, but you don't realize is that five plays earlier he did the wrong thing in the same coverage," Cerroni said. "So you yell at him, he does the right thing and he gets the interception."
Beyer is part of a UWO secondary that is beginning to make a name for themselves.
The Titans starting secondary consists of defensive backs AJ Plewa, Calvin Shilling, Kollyn Beyer and safety's Cole Yoder and Taylor Ripplinger; combined the secondary has eight interceptions and two touchdowns.
The UW Oshkosh football team prides itself on defense. This season the Titans are only giving up 11.4 points per game in the 2018 season largely due to the play of the Beyer and the rest of the secondary.