Swim and dive record first win
The UW Oshkosh men's and women's swim and dive team won its dual meet against Carroll University on Saturday.
The men's team had 10 winners on the day as they defeated Carroll University by a score of 139-47.
Sophomores Matt Wilke and Jarrett Lieder and freshman Case Geidl all recorded two wins in events.
Leider and Geidl combined with junior Michael Gerondale and senior Ian Sewell to win the 400-yard freestyle relay.
Geidl said a different mindset played a role in the team's success over the weekend.
"When we started the race, everyone went into it with the mindset that they're going to give it their all," Geidl said. "Some of the meets that we go to, it's kind of obvious we're not going to win everything but as long as we're giving it our all it's cool to see the individual growth of every person."
Geidl said team chemistry played a huge role in their success last weekend.
"At the end of our sets, our workouts, we're always giving high fives and motivational stuff," Geidl said. "That carries into the meets. Once we've got people doing that, it's just a big motivational boost. People say [swimming] is a mental sport, and that's so true."
Other men's team winners were Sewell (200-yard freestyle), sophomore David Bain (100-yard backstroke) and freshman Alex Jernberg (100-yard breaststroke).
The women's team also picked up a win against Carroll University of 118-112. The Titans had seven winners with junior Sydney Challoner winning both the 100-yard butterfly as well as the 100-yard breaststroke.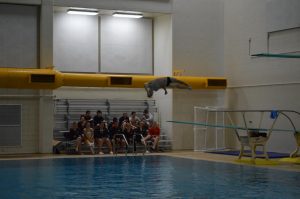 Freshman Hannah Cunningham also had a stellar meet recording her first two collegiate victories by winning the 100-yard freestyle and combined with sophomore Tessa Shorten, and freshmen Rachel Jaworski and Alex Schuster to win the 400-yard freestyle relay.
Cunningham said she raced well, was proud of her performance and said it gives her confidence heading into future meets.
"I come to every practice, every week and just put your all into practice so you can get out of it what you put in," Cunningham said. "It shows that I'm capable. If I really want to win something, I can do it as long as I put some effort into it."
Head coach Christopher Culp said he was proud of the way his women's team battled all the way down to the last race.
"Carroll has always been a really good competition for us," Culp said. "Their girls have talent and we had talent, but they are a little bit deeper and a little bit bigger. They were able to fill up every event, which typically means they'll get those points … If you leave lanes open, they are able to fill in those spots where you are able to get third, fourth, fifth, which is all worth points."
In a close meet, Culp said it was exciting to watch his team pull it out toward the end.
"Really what it came down to was we won the events I thought we'd win but there were just a few key people that really stepped up and got that third or fourth place that really started to add the points in the end," Culp said, "and then our final relay pulled it over the top for us."