Titans defeat Blugolds to open WIAC play
Ally Gwidt, Assistant Sports Editor
November 15, 2018
UW Oshkosh wrestling owned 12 place winners at the Dan Gable Open on Saturday and defeated UW-Eau Claire in its first scoring match of the season on Tuesday.
The Titans, now 1-0 in conference play, dominated its last three matches to break a tied score and defeat the Blugolds 27-15 on Tuesday in Kolf Sports Center.
The match stood still at 15-15 before UWO's Colten Cashmore captured a 5-2 win over Grant Balconi in the 184-pound weight class. The Titans advanced their lead over the Blugolds to 21-15 when freshman Beau Yineman edged Jordan Blanchard 12-8 in the 197-pound matchup.
UWO sophomore Jordan Lemcke executed a match-sealing 3:22 pin over Austen Hakes in their 285-pound contest to earn the Titans their final six points of the night.
UWO head coach Efrain Ayala said the home season opener packed with 420 fans in attendance served as an electrifying start to the year for his team.
"It was a great kick-start to the season," Ayala said. "The boys came to play and performed well in a great atmosphere."
The Titans placed 12 athletes as they faced off against 97 wrestlers at the Dan Gable Open held Saturday in Kolf Sports Center.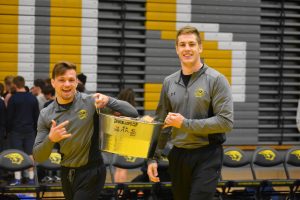 Yineman won all four of his matches to sweep the 197-pound title for the Titans while Ben Kitslaar, Patrick Reilly and AJ Schoenfuss finished second after falling in the championship contest of their respective weight class.
Yineman pinned his first two opponents within two minutes apiece before posting a 14-3 victory over UW-Stevens Point's Jerry Lipke. Yineman then secured his first-place finish after Kitslaar went down with an injury in the first round of their title match.
Coming off of his grey-shirt season, Reilly registered a 3-1 record in the 184-point weight class after his narrow defeat in a 7-6 decision to unattached Joshua Becker in the championship contest.
UWO junior Husam Alabed finished third in the 174-pound weight class. Alabed claimed a 12-7 victory over UW-Stevens Point's Tara Holland in the third-place match to tally a 3-1 record overall.
Alabed said his one 11-10 loss to Harper College's Juan Quiroz zeroed him in on preparing for the rest of the season.
"My loss opened my eyes to what I need to improve on as the season moves forward," Alabed said. "As a team, we were as motivated as it gets. We just need to fix the little things."
Reilly said UWO should be excited about the Titans' early success this season.
"The early success of the team is a great sign to see, especially from some of the young men already doing as well as they are," Reilly said. "We really hope to open some eyes this year and draw a big crowd to our duals."
Ayala backed Reilly and said UWO is performing at the top of their game right out of the gates this season, and he does not expect their dominance to stop anytime soon.
"The boys are ready to get after it at their next conference dual," Ayala said. "We will be 2-0 in conference play after next week."
The Titans face off against UW-Stevens Point in another Wisconsin Intercollegiate Athletic Conference dual meet on Tuesday in Stevens Point.