Women's basketball remains undefeated
The Titans have yet to trail in a game and are 4-0 on the season
The UW Oshkosh women's basketball team went 2-0 in Eau Claire last weekend as they faced the College of St. Scholastica and Ripon College.
The Titans held a double-digit lead over the College of St. Scholastica for all but 2:36 of the game Friday defeating the Saints 71-44.
UWO made 13-14 free throws, marking a season-high 92.9 percent from the foul line.
Leading scorer Melanie Schneider put up 16 points with six rebounds and three assists.
Among 12 scoring players, Erin Vande Zande scored a career best of 10 points of the bench.
The Titans also defeated Ripon College 64-32 maintaining a double-digit lead for all but the first nine minutes of the game on Saturday.
UWO extended the lead to 32 points with 11 seconds left to close out the Redhawks for the second win in as many days.
Isabella Samuels lead the team with 15 points and five rebounds and Olivia Campbell led the team with four steals, two blocks, and two assists.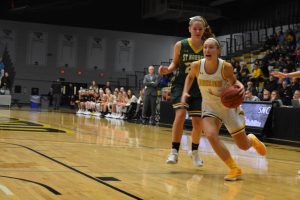 UW-Oshkosh came out 4-0 after the 76-43 defeat against St. Norbert Monday night.
The Titans hit 13 3-pointers, which marks the most in the previous 147 games. The last time the UWO hit 13 or more threes in one game was back in 2013 versus Northland International University when the women hit 14 3-pointers.
UWO shot season-high 41.9 percent from behind the arc against St. Norbert.
Melanie Schneider lead the team with a career-high of 17 points, and Chloe Pustina added a career-best of 14 points.
The Titans have not trailed any point so far this season, outscoring their opponents 80-27 during the first quarter this season.
Coach Brad Fischer said the chemistry made by this team comes from team bonding.
"We don't have try outs so doing things together begins as soon as the recruitment process begins. Not just when the season begins in October," Fischer said.
"We have to forget that we are 4-0, and we have to be better to be the best," Fischer said.