UWO wins first outright WIAC title since 1977-78
The UW Oshkosh men's basketball team set a school record by winning 21 straight games before finally losing to UW-La Crosse
The UW Oshkosh men's basketball team saw its streak of 21-straight victories come to an end.
On Wednesday, UWO dropped their second game of the year, losing to UW-La Crosse 66-61.
UWO was held to just 39 percent shooting from the floor and made 66.7 percent of their free throw shots going eight for 12.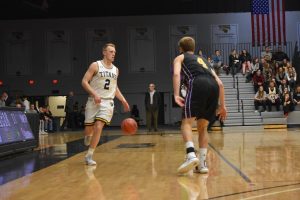 Junior forward Adam Fravert led the Titans with 21 points, shooting five for 10 from three-point range.
In a rare occurrence, the Titans were out-rebounded by their opponent as UW-La Crosse held a 43-32 advantage on the boards.
Oshkosh also turned the ball over 11 times, and senior Ben Boots said the Titans need to clean that up before playoff time.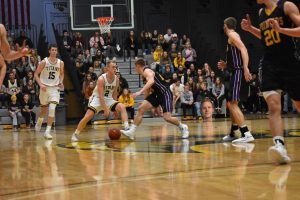 "We have to keep protecting the ball offensively," Boots said. "When we protect the ball really well, that helps our offense and our defense."
Last Saturday, UWO took on UW-Stevens Point at Kolf Sports Center where the Titans battled their way to a 77-70 victory.
The Pointers hold the nation's leading scoring defense but the Titans shot a respectable percentage from the field and got to the free-throw line 23 times, converting on 19 of those attempts.
Boots led the Titans as he poured in 23 points on six of 13 shooting from the field and going nine of 10 from the free-throw line.
Boots also reached the 1,500 point milestone during the contest, becoming the ninth player in UWO history to do so.
The Titans limited 2018 Wisconsin Intercollegiate Athletic Conference First-Team selection Canon O'Heron to 10 points on five of 12 shooting and limited all UW-Stevens Point scorers to under 31 percent shooting from beyond-the-arc.
The win locked in UWO's first WIAC championship since 2001-02 and their first sole championship since 1977-78.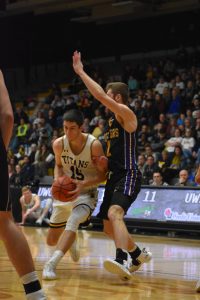 Boots said after the team's loss to Wheaton College in its second game of the season, it has paid more attention to what it can do on defense to make things harder for the opponent's offense.
"I think we recommitted on the defensive end after our early loss this season," Boots said. "Playing great defense helps spark our offense and we gain our energy from getting stops."
The game also served as the team's annual Shooting It For Luke event, which raises money for the Families of Children with Cancer, a local organization that supports individual children and their families, according to the UWO Athletics website.
Neenah St. Mary's Catholic High School sophomore Luke Peters has been a program sponsor for the past five years after being diagnosed with a brain tumor before his sixth birthday.
Boots said Peters has been an inspiration for the team over the past five years and the team enjoys supporting the 16-year-old.
"It's a really great experience and opportunity to host such an awesome event," Boots said. "Luke means so much to us and we love having him. We were able to watch his high school game the night before the event, which was awesome as well."
Senior forward Alex Van Dyke said this cause is personal to him as he was diagnosed with acute lymphoblastic leukemia just before his 14th birthday.
Van Dyke said the program does a good job of spreading awareness and raising money for childhood cancer.
"Part of our team mission statement is to contribute to the community and this is one of the ways we do that," Van Dyke said. "For me specifically, it means that we're spreading awareness about cancer research and hopefully increasing funding through donations."
Wittchow said during his four years at UWO, he has been able to watch Peters grow, which has been a really cool experience.
"Each year I've been here at Oshkosh we've had a 'Shooting it for Luke' game," Wittchow said. "I think it's been really cool to watch him grow and mature over the years. Our team treats him as one of us."
The Titans will travel to UW-Eau Claire on Saturday for their final regular-season game. Tip-off is set for 5 p.m. at W.L. Zorn Arena. "