Titans place first and fifth at 13-team home meet
The UW Oshkosh men's track and field team takes first place as the women place fifth in the first home meet of the season on Saturday
The UW Oshkosh track and field teams hosted 13 schools at the UW Oshkosh Titan Challenge at Kolf Sports Center last Saturday.
The men's track and field team took home first place while the women's team finished in fifth place.
The men's squad had four event winners at the Titan Challenge.
UWO long jumper and national leader Jonathan Wilburn outmeasured 19 other competitors in the long jump with a length of 48-8 3/4. In addition, Wilburn, Ryan Powers, Steven Potter and Todd Beadle, forming the nation-leading 1,600-meter relay team, took first with a time of 3:17.43.
Roman Hill and Robert Ogbuli also placed first on Saturday. Hill out-leaped the field in the long jump with a measurement of 22-11 3/4. Ogbuli sprinted past the competition in the 60-meter dash with a time of 6.9 seconds; teammates Benjamin Jung and Denzel Thomas placed second and third respectively.
Powers said numerous teammates have come a long way this season, but Ogbuli made the most impressive improvement.
"I've seen many of my teammates grow and perform much better than last year and earlier this season," Powers said. "If I had to pick one athlete who surprised me the most from the beginning of the season, it would be Robert Ogbuli. He has come to learn the skill of sprinting and was really a non-factor in big meets until recently."
On the women's side, senior Lauren Wrensch continued her success in the long jump as she dominated the rest of the 41 other contestants with her leap of 19-4 3/4, breaking her own school record for the second time this season. UW-Eau Claire's Ashley Agrimson finished second at 18-8.
In addition to winning the long jump, Wrensch took first in the 200-meter dash, running a 25.32 second time, over half a second faster than second-place Hannah Mertens of UW-Stevens Point, who finished with a time of 25.96 seconds.
Wrensch is nationally ranked first in the long jump and sixth in the 200-meter dash.
Head coach Justin Kinseth said Wrensch's evolution from freshman year to now has been amazing and surprised everyone involved in the program.
"She never did track in high school," Kinseth said. "She literally gave all-out commitment to this team, to this program, to this sport. I think those first few years of learning and developing and growing … she's got it now."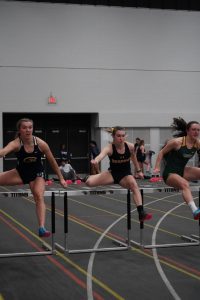 Wrensch said her attention remains on the details as the Wisconsin Intercollegiate Atheltic Conference Championship approaches.
"I think it's important that I stay consistent and polished in practices. When it's time to compete so I'm able to execute everything just like I have been," Wrensch said. "Also since I'm competing in multiple events, making sure I'm focusing on each individual performance itself and staying calm as I compete."
Other notable scorers from the UWO women's team included, Wrensch and her 1,600-meter relay team of Lindsay Denu, Alexandra Demco and Taylor Pralle. They ran a third-place finish with a time of 3:58.07. The Titan women's 1,600-meter relay currently holds the 10th fastest time in the nation.
Nationally ranked senior sprinter Ryan Powers said he understands there are high expectations for him every time he lines up to race but expects the responsibilities.
"Being a top-ranked runner, there will always be pressure and a target on your back for other athletes to get after," Powers said. "Over the years, I have tried to calm the nerves as much as possible, but you'll never be able to fully get rid of those as long as you care about the race."
Kinseth said the juniors' and seniors' ability to lead by example has trickled down throughout the team, fast-forwarding progress that surpassed Kinseth's projections for the track and field program.
"The women and the men have literally exceeded expectations," Kinseth said. "It's a young team; it's awesome to see how far we've developed within one year. A lot of that is a testament to their commitment and the upperclassman really putting their arm over their shoulder, making sure that we collectively build that team culture."
The UWO men and women's track teams will travel to UW-Whitewater for the WIAC Indoor Championships this Friday and Saturday.
The UWO men will be searching for their first WIAC Championship since 2001, while the women will look to add a 14th championship, their first since 2012.