Softball bids farewell to senior class
The UW Oshkosh softball team concluded its season after back-to-back losses in the third and semifinal round of the Wisconsin Intercollegiate Athletic Conference Championship on Saturday in Whitewater.
The Titans swept fourth-seed UW-La Crosse and top-seed tournament host UW-Whitewater on Friday, advancing to the third round of the WIAC tournament versus second-seed UW-Eau Claire.
UWO took a five-inning, 10-2 loss againsts the Blugolds, forcing the Titans to rematch the Eagles in the semifinal round.
UWL got out to an early 1-0 lead in the first inning, but junior Claire Petrus answered with her seventh home run of the season in the bottom of the second to tie the game up 1-1.
The matchup remained scoreless until the seventh inning when both teams batted a runner-in to maintain a tie and advance the score to 2-2.
In the extended inning, UWL's Kendra Leis homered one to right center field to plate two runners and take the lead, 4-2.
The Eagles did not hesitate in the final frame, packing on two more RBI's while holding the Titans at two points the remainder of play.
The Titans, who were attempting to become the first fifth seed to win the WIAC Championship, finished third in the tournament after the 6-2 UWL victory sent UWO home with an overall season record of 23-14 and a 7-7 in WIAC play.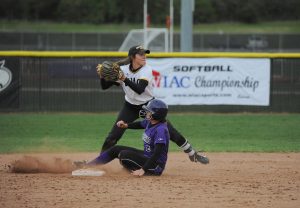 Head coach Scott Beyer said the biggest thing UWO took away from the tournament was to remember to play their game and no one else's.
"We learned that any game we play has nothing to do with our opponent but has everything to do about us, "Beyer said. "We are capable to doing great things at any moment, and we will take that attitude with us until we have an opportunity to get back on the field next fall."
UWO will retire its five-woman senior class, including first base Kaitlyn Krol, pitcher Bailey Smaney and outfielders Abby Menting, Emma Fionda and Jordan Manthei.
Beyer said this season class was one he simply won't forget.
"I will miss everything about them," Beyer said. "Those five women are very special to me. They helped build this team and culture to what it is today, and seeing them play for the last time was very bittersweet. They are going to move on and be great leaders in their fields, and I cannot wait to watch them grow into the future, but it will be kind of weird not having them around next fall."
Krol and Menting concluded their careers tied for third in program history with 66 walks. Menting also lists sixth in the school record book with 38 career doubles and seventh with 17 home runs.
Smaney crystalized her four-year career with an 18-5 record with a 2.50 earned run average, three saves and 95 strikeouts in 176.1 innings pitched, including 11 complete games and two shutouts.
Fionda tallied 46 hits, 45 runs, four doubles, two triples, 11 RBIs and five stolen bases.
Manthei sports a team-leading .987 fielding percentage alongside 12 hits, six runs, five doubles and 11 runs-batted-in.
Beyer said despite losing five key components to UWO softball, people can expect the program to continue its success into the 2020 season.
"We lose five important seniors this year that cannot be replaced, but I fully expect to compete for a conference title again next season," Beyer said. "We have a big recruiting class coming in to add some depth at a few positions, and we will be driven to work hard in the off-season to reach our goals for next spring."