Titans claim 1st home opener win in 3 years
Mallory Knight leads the Titans this season with 3 goals.
The UW Oshkosh women's soccer team claimed a 3-1 victory over Dominican University (Ill.) in its home opener on Saturday at Titan Stadium.
This is the Titans first time opening their home schedule on a win in three years.
Scoring goals for the Titans were junior midfielder Emily Burg in the game's 16th minute, junior forward Mallory Knight in the 54th and sophomore midfielder Amber Richter in the 85th. Richter's goal served as the first of her collegiate career.
Knight leads the team in goals scored, already owning three of the Titan's six goals scored so far this season. Knight accounted for a total of seven goals last year and one goal in her freshman season.
UWO had a 75% success rate with shots-on-goal as their lone missed shot was in the 73rd minute as Quinlan Thompson's shot was blocked by Dominican goalkeeper Abbey Brown.
Dominican had recorded three straight victories without giving up a goal before UWO scored three goals against the Stars.
Knight devoted her early season success to her teammates.
"The team creates great opportunities through possession and combinations," Knight said. "They are the ones who allow me to get great scoring looks."
The Titans wield a 2-3 record overall, with all three of their losses coming as a result of a close 1-0 match. Senior defender and team captain Maddie Morris said the Titans need to take more offensive opportunities if they want to contend in close matches.
"We have gotten to know how people play throughout the season and that helps us play as a unit," Morris said. "Having confidence is a huge factor in taking a risky shot that might help us get the edge or go one-on-one with a defender to get the chance [to score]."
The Titans play again on Wednesday Sept. 18 at 4:30 p.m.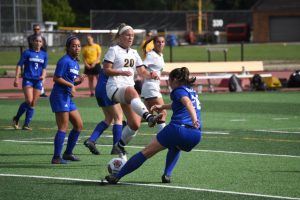 Morris said the Titans are going to have to work as a team to combat the Redhawks intense offensive and defensive game.
"They are an aggressive team," Morris said. "We have to attack them at all ends rather than from just one or two positions. We have to look out for any speed that they have up top on offense to make sure they don't get through our midfield and into our defense."
Senior goalie Madelyn Runyan said Ripon will be a good determiner on how the latter season conference play will plan out for the team.
"We need to be relentless and have team chemistry," Runyan said. "Having those two qualities together is a very dangerous combination. If we are able to execute both of these, I think we could be a top contender [in conference]."