Cerroni 10th to Record 100th Victory in WIAC
UW-Oshkosh head football coach Pat Cerroni recorded the 100th win of his career at UWO, as the Titans annihilated UW-Eau Claire 31-3 last Saturday at the homecoming game.
With the win over UWEC, Cerroni becomes the 10th coach in the Wisconsin Intercollegiate Athletic Conference's history to reach 100 wins.
Cerroni's overall record as the Titan head coach is 100-40, giving him a 71% win percentage.
Cerroni's and the defensive coaching staff's instruction has been a huge contributor to the success of the Titans' defense so far this season.
The Titans' defense was dominant in the team's victory on Saturday as UWO held UWEC to average a mere 1.9 yards per play, and limited the Blugolds to just a field goal.
Sophomore defensive lineman Nick Tinagila sums up the defense's dominant performance to just executing what they are taught in practice.
"We've been making sure we do our jobs," Tinaglia said. "We've been fitting our gaps, and when the ball comes to us, we make the play."
The Titans further dominated UWEC's offensive with a season-high eight sacks.
UWO defensive coordinator Craig Stenbroten praised his team's work in practice as a major factor to the team's success on Saturday.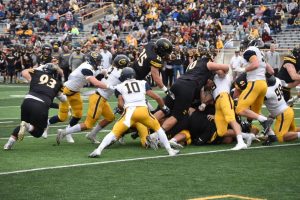 "I think their effort throughout practice has been outstanding," Stenbroten said. "I think that our guys have come in here focused, ready to go. It lets us get a lot done at practice."
Junior Trent LaCombe led the team in sacks on Saturday, recording two of the team's eight, capping off another impressive outing for the UWO defensive line.
"Defensive line is a very experienced group for us, and I think the experience is coming through," Stenbroten said. "There's no doubt they are doing a great job."
Freshman quarterback Kobe Berghammer also had a standout performance against UWEC, leading the team in passing and rushing with 114 and 102 yards respectively.
Berghammer led the team in scoring as well on Saturday, scoring three rushing touchdowns.
Other notable Titan performances came from junior linebacker Nick Noethe, who recorded eight total tackles, and junior Chris Hess, who ran for 51 yards and punched in a rushing touchdown.
The UWO football team is tied with UW-Whitewater for first place in the WIAC as both teams remain undefeated in conference play.
"Our guys have a great mentality right now of coming in each week to improve and to just get a little bit better everyday," Stenbroten said. "I think we've been able to see that the last couple of days, and I hope we can keep that attitude and that effort going."
The team looks to build on its positive momentum this Saturday as they travel to La Crosse to play the Eagles.