Koppa leads women's tennis to conference
The UW Oshkosh women's tennis team has had a remarkable regular record this season, finishing with a 7-3 overall record while going 3-3 in conference.
The team was extremely pleased with their successful regular season performance and looks to continue the momentum into Wisconsin Intercollegiate Athletic Conference Championship play that is set to start on Oct. 26 in Madison.
Another prominent strength that this team has on their side is the overall distribution of talent that travels deep into the roster. Both the players and the coaches have expressed a great deal of satisfaction with this factor.
"I love the depth of our singles lineup," Robert Henshaw, the UW Oshkosh women's tennis coach, said. "I trust all of them to be problem solvers and give complete effort throughout each match. Doubles has improved match by match throughout the fall."
After such a promising regular season, the girls realize that their impressive 7-3 record is wiped completely clean and means virtually nothing come playoff time.
In terms of execution, the team states that the key is going into the match with a positive, optimistic mentality and a mental image of them doing their very best.
"We'll have to practice with focus, simulate execution under pressure and visualize ourselves experiencing success this week," Henshaw said.
Someone who has helped a lot with both focus and execution throughout her time as a UWO women's tennis player is Samantha "Sami" Koppa, a senior out of Cedarburg.
Koppa holds a solid 8-3 regular season record this year, and according to her teammates she has mentor-like attributes and wants to watch her team perform well. Her winning-mentality is contagious throughout the UWO roster.
Hodyl said her playing style has changed as she progresses through her years at UWO and that has only helped her in matches.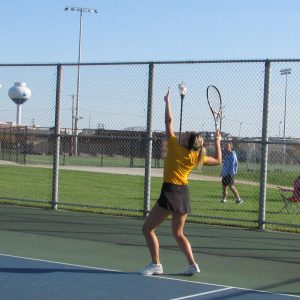 "I used to be deathly afraid of being at the net and not confident in the slightest. But since playing with [Koppa], my game has improved so much and I actually love being at the net now," Hodyl said. "As a person, she's the kindest person you'll ever meet. She really wants you to succeed at anything you do."
Koppa has been able to lead by example for all four years of her collegiate career by executing from the get-go.
"Sami has been a winner since her first match as a freshman. She's smart and plays within herself on the court," Henshaw said. "She believes she has a chance to win every time she steps on the court."
Overall, the goals of this team are goals set with an extremely high standard, and they become much more attainable if the Titans can get off to a hot start.
"We want to continue our season into the spring so we need to finish in the top four at our conference tournament. If we win our first match in Madison we will be in terrific position to challenge for the top," Henshaw said.
With high-quality performance, a tight bond that has lasted throughout the season and a strong leader in Koppa, the Titans will be a very interesting watch as the WIAC Championship kicks off at Madison's Nielson Stadium this weekend.