UWO's gentle giants
Head Sports Editor Neal Hogden spoke with some of the biggest guys on campus — the UW Oshkosh football team's offensive line. Hunter Tank, Alex Wipperfurth, Jason Myrick, Mike Olsen, Hunter "Cookie" Schultz and Ameer Hollowell chopped it up about football, coming to UWO and life in general.
Q: Did you guys have to gain weight when you learned you would be playing here?
Mike Olsen: I did, yeah. When I got on campus I was like 235 or something and they had me at D-line because I was too small to play O-line. I went through the greyshirt process, started working out and eating more food and I ended up at about 270.
Jason Myrick: I'd say I'm about the same. I came to college at about 230 and through a year, or year and a half I gained about 40 pounds.
Ameer Hollowell: I've been a big fella my whole life. 285 coming out of high school and about 320 now, so there's been a lot of snacks in there.
Hunter Tank: A lot of guys did. I personally didn't. I actually had to try to lose some weight. Just kind of tone up and get rid of some fat. You know us O-linemen, we've got a lot of fat on us.
Q: How did your diet and workouts change when you got on campus?
MO: I think the big thing for me was just lifting heavy weights year round. When I was in high school, I played football obviously and I wrestled too so there was a four-month gap there where you're not really lifting heavy weights. You're doing more cardio stuff, kinda getting more lean. Here it was just bulking constantly and then just eating more.
Alex Wipperfurth: My high school didn't really have a good weight program. Like we didn't do any of the olympic lifts or stuff like we do here and we didn't do a ton of cardio. So it's kind of what Mike was saying. Just doing a lot more heavy lifting.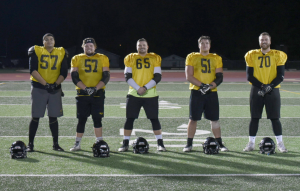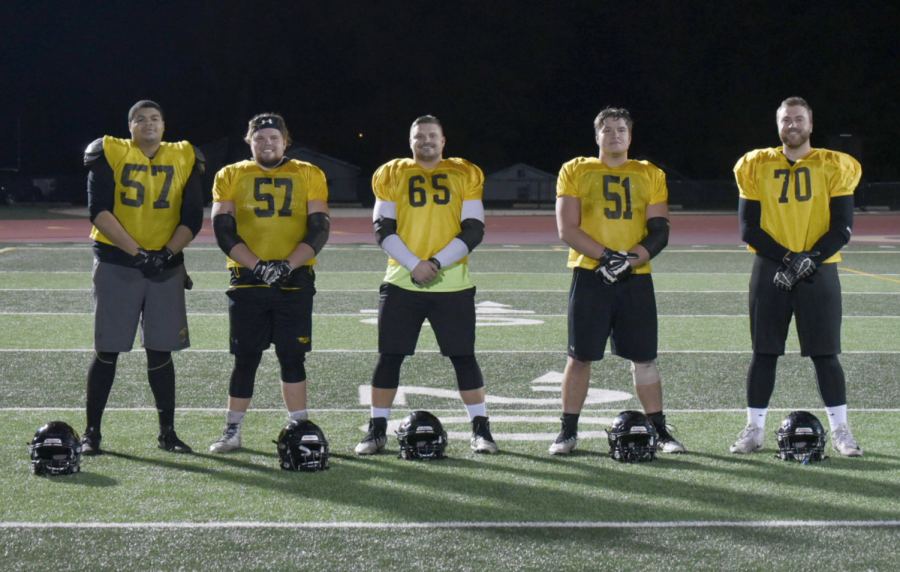 HT: Yeah, it was a lot different than high school. I know I went to a pretty small school. We would only have a couple of us lifting over summer and stuff so it was different coming here and you're lifting three, four times a week. You're eating good so you can play good and perform good. Coach [Steve] Brown does a good job with that. I've put on a lot of muscle since coming here. I mean it's a lot different lifts. We do a lot of body lifts.
AH: Because I transferred in, I had to make sure I hit the weights really hard the semester before I got here. I was running early in the morning trying to stay lean and again, snacks at night.
JM: Apart from just lifting and stuff, I think some of the other drills that we do, getting us to be faster, jump better and be better athletes, I had never done anything like that before college.
Hunter Schultz: I think it was just important to pay attention to what you eat. I was already a pretty big guy coming in so I just had to keep it where it was, get lean and try not to gain too much.
Q: How are your weight room sessions? Do you guys get pretty fired up?
HS: It's pretty quiet. We kinda just stick to ourselves and just get after it.
AW: Our offseason stuff, like the winter conditioning and all that. We're usually in groups with each other and we're just kind of pushing ourselves pretty hard then. We can get on each other and really drive each other.
MO: I like to get a little loud in the weight room. I know there's times where I'll have a big lift and I'll ask 'Cookie' to slap me or something to kinda get me going.
JM: We have fun and it's a good time.
HT: We're competitive. We're one big family, the entire team, but we try to beat out the rest of the guys and have a little competition and make it fun. Try to put up bigger numbers than the other guy and brag to them about it.
Q: Do you guys live together or hang out outside of football?
MO: We hang out.
AW: Yeah, we hang out quite a bit.
AH: Thursdays.
HS: Qdoba every Thursday night.
MO: Yeah, we hang out a lot. Usually Saturdays after games we all hang out.
AW: I live with Hunter Tank too.
HT: Yeah a lot of us hang out. We're kind of our own separate unit from everyone else. We're our own culture. Yeah, I live with Alex Wipperfurth and we pretty much do everything together.
Q: And do you get stares if you go into Blackhawk?
HT: People are always looking at us and asking, 'Do you play football? Do you play football?' They can tell how big we are and stuff. And the lunch ladies in Blackhawk, God bless 'em. They love us and we love them. It's a good relationship.
Q: Who's the best cook out of you guys?
MO: Me. I can grill and I can't do a whole lot else. I can grill a lot of meat.
AH: I'm more of a pan-seared guy.
HT: The best cook would probably be Joe [Blitstein]. Joe can make some good stuff. He used to be a cook.
HS: Yeah that one's going to have to go to Mike.
Q: Who's the best athlete out of you guys?
HT: I'm gonna go with Cookie. We call him 'Cookie' but it's Hunter Schultz. The story behind why we call him 'Cookie' is freshman year, after we were doing camp and stuff in August, every day after practice he'd be walking along to Insomnia Cookies to go get some cookies after practice and that's how the name stuck.
MO: Not what Hunter [Tank] said.
HS: I know.
AH: That's a lie.
MO: I gotta go with Myrick here.
JM: I gotta go with Wipp.
HS: We'll give it to Wipp.
Q: Finally, a football question for you guys. What has it been like working with a freshman quarterback this season?
MO: It's been pretty smooth. He's pretty good.
AW: The mobile thing is something we haven't really had a lot in the past so that's been a little bit of a challenge to pick up but I mean, he's just been making plays constantly. He's saved us on a bunch of plays too. There's been times where guys get through and he just makes them miss.
JM: His ability to make plays makes our job pretty easy.
HT: He's done great. He's awesome. Oshkosh is lucky to have him the next four years. He's quite the guy, quite the stud and quite the person.