Calling a national championship game
Even though the stakes weren't quite as high as the Super Bowl, NBA Finals or World Series, calling a national championship for your university's men's basketball team gives you a feeling that only a select few can relate to.
Looking back on that memorable weekend, I can't help but reflect on how grateful I am to have had this opportunity, and to think that I joined legendary sports broadcasters who've been fortunate enough to call a national championship game.
The Titans headed to Fort Wayne, Indiana, for the 2019 NCAA Division III men's basketball Final Four and I was chosen to travel down to call the action. The morning of March 15 was cloudy and cold, but my radio partner Stewart Atkinson and I made the five-and-a-half hour drive.
At the time, it didn't seem real that we would be calling a Final Four semifinal game that night, but after making our way into Fort Wayne's Allen County War Memorial Coliseum, it hit me like a ton of bricks.
After making our way into the arena and unpacking our equipment, we walked down to the court to find our place among the dozens of other media members.
But as we looked for the "WRST" section, panic began to set in. WRST's section was nowhere to be seen. Even though arrangements for us were made well in advance, did they actually forget about us? This didn't seem real, but it was indeed happening.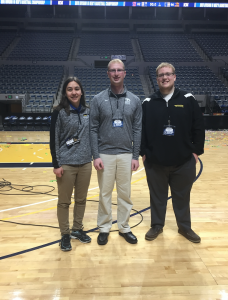 All the promotion for this game, all the promises to our listeners, and we may not even get to broadcast the game.
I remember thinking to myself "This is not the way it's supposed to happen. There's got to be a way we can broadcast this game."
After searching for what felt like an eternity, we finally found our designated spot. But we quickly realized we had a new problem on our hands.
There was no port for our ethernet cable, which is vital for our broadcast. If we don't have an internet connection, we don't have a broadcast.
At this point, we knew we had to take matters into our own hands. We tracked down a young man named Alex, who we had met earlier, and asked if we could move to a place where there were ethernet ports.
He said there was a spot on the end of the media table that may work, but only if the media personnel whom the spot was designated for did not show up.
That response was not reassuring at all because if they did show up, we were pretty much doomed. As the first semifinal game reached halftime, and our potential new spot remained empty, we were given the go-ahead to set up.
It was a huge sigh of relief knowing that we were indeed going to have a broadcast. Now, it was up to the Titans to do their part.
The first semifinal game concluded, with Swarthmore College (Pa.) moving on to the national championship game.
Now it was time for the Titans to take on Wheaton College (Ill.), an opponent they lost to earlier in the year. As the broadcast started, a nervous yet excited feeling came over me, knowing that hundreds of people would be listening to our broadcast.
It was time to see if both the Titans and I would perform at our best or crumble under pressure.
The Titans got off to a fast start, but Wheaton College slowly made their way back in the game, and at the half, Oshkosh held on to a five-point lead.
The second half featured a dominant performance by the Titans, and when it was all said and done, the Titans were moving on to the national championship game with a 104-85 win.
Just like the Titans, the feeling of victory came upon our broadcast as we performed the call successfully. And the realization that we would not have to travel back to Wisconsin the next day sure was satisfying.
But now the pressure was really on. The next day would be the biggest game of the season for the Titans, and the biggest game of my young broadcasting career.
I was surprised to find the next morning that I had slept well that night, even though the implications of what was about to happen were extraordinary.
Maybe it didn't hit me hard enough. Maybe it was all happening so fast. Either way, I carried on through my day like usual, but as game time approached that night, all of that would change.
Making our way back to the arena that night, I couldn't help but consistently think about what was going to happen.
Were we going to have any issues with our equipment? Was there going to be a proper spot for us? Was the game itself going to be close? Would I be a part of Titan history? All those questions swirled through my head as we walked to the front doors.
Once we unloaded our equipment, we witnessed the first sign that the night would go our way. Thanks to Alex and his team, we had our own spot, with an ethernet port, right along the side of the court. Worry No. 1 was no more. Now on to the game itself.
All of a sudden, it hit me. This was actually happening. I was calling a national championship game for the university's official radio station for hundreds of listeners. No pressure there! But as we eased our way into the broadcast, it felt like we were prepared and ready for the moment.
As Oshkosh and Swarthmore College made their way onto the court for the opening tipoff, I remember reliving how far this team has come and how far I've come to get to this point. It's now or never, and we had two hours to make history.
Just like they did the previous night, the Titans got off to a blazing fast start. It was a back-and-forth battle for much of the first half, and at the half, the Titans held on to a 45-37 lead.
The second half would feature more back-and-forth battle between the two teams, but as the game progressed the Titans showed they were the better team.
With only a couple minutes left and the Titans up big, the starters left the game to an enormous roar from the 300 or so Titans fans who made the trip, and at that moment, an overwhelming feeling of pride filled me inside.
This wasn't going to be a repeat of last year. The Titans were going to win the national championship, and I was here to witness it. Now it was time to celebrate.
As confetti fell from the rafters and the Titans celebrated on the court, the victorious feeling I had continued to beam inside of me. History was officially made, but maybe even more importantly, memories were made. Not only is this something that team will never forget, but it's also something I will never forget.
Looking back on that March weekend, it still doesn't seem real that I called a national championship game, but the fact that it happened is something I will always be grateful for.
I may never get to call a national championship game again, but I will always be able to say that I got to call one for my university, my school and my Titans.
Editors Note: This story first appeared on 90.3 WRST FM-Oshkosh.