Titans bounce back from disappointing loss
The UW Oshkosh women's volleyball team lost to UW-Whitewater two sets to three at home last week Wednesday after winning the first two sets.
The nationally ranked Warhawks secured the WIAC regular season title with the victory.
Titans head coach Jonathan Ellmann said he felt like they didn't leave everything out on the court.
"It's one thing to lose while playing your hearts out, but it's another when you feel like you left some gas in the tank," Ellmann said. "Emotion from a win or loss can distract you from the reality of the match. Although it was a hard one, we knew we had to get back to work."
Despite the loss, junior Shelby Coron led the team with a career-high 13 kills, as well as four blocks, while freshman Kate Nottoli led the team with eight blocks and added seven kills. Senior Samantha Jaeke also registered seven kills.
Senior Rachel Gardner accumulated team-high 25 digs, and freshman Carissa Sundholm contributed nine kills to go along with 15 digs.
The Titans then competed at the Illinois Wesleyan University Holiday Inn Express Classic II over the weekend where they won two of their three games.
UWO lost to Millikin University (Ill.) two sets to three on Friday, before defeating both Augustana College (Ill.) three sets to one and the hosting Illinois Wesleyan University three sets to two on Saturday.
In the loss to Millikin, Jaeke led the team with 18 kills, sophomore Taylor Allen had 10 blocks and Gardner tacked on 26 digs.
Gardner also eclipsed 2,000 career digs during the contest, becoming the first Titan since Mandy Trautmann in 2015 to hit the milestone.
Ellmann said Gardner's hard work and consistency, among other equitable traits, has allowed her and the team to have success.
"I couldn't be more proud of the player and person that Rachel has become," Ellmann said. "Her competitive drive, work ethic and willingness to learn and embrace change have acted as cornerstones for her success."
In the victory against Augustana, Coron hit a career-high 16 kills, Gardner led with 17 digs and Nottoli registered six blocks and the team's only service ace during the contest.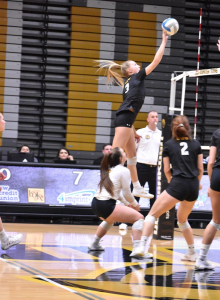 The winning performance was followed by another victory as the Titans defeated Illinois Wesleyan University after trailing one set to two to finish off the weekend.
Jaeke again led the Titans in kills, this time with 17, while Gardner added 21 digs and Nottoli tallied five blocks.
Jaeke said the success over the weekend was the team trending in the right direction.
"After our loss against Whitewater, we were motivated and ready to work hard against the teams this weekend," Jaeke said. "Going 2-1 this weekend and winning some tough matches helped boost our confidence back up. We are capable of being great volleyball players and each of us knows and agrees with that."
As the season begins to wind down for the Titans, Jaeke said she wants her legacy as a Titan athlete to be one of a passionate and hard working player.
"I hope I can be a great role model for the underclassmen and even for the incoming freshmen for next season," Jaeke said. "I want to be remembered by my intensity and competitiveness along with my work ethic, but also for my passion for the game and my love [and] empathy I have for each girl on the team."