Gymnastics edged out by UW-Whitewater
"The UW Oshkosh gymnastics team had a strong showing at the Harley-Davidson Women's Gymnastics Invitational in Milwaukee on Friday scoring 187.825 points, finishing second to UW-Whitewater's 188.925 points.
Despite finishing second, the meet was full of highlights for many UWO gymnasts.
Freshman Trinity Sawyer won the vault competition, achieving a season best score of 9.75, contributing to UWO having the highest team score in the vault competition. Sawyer was confident going into her stellar vault performance, in spite of a rough showing in her previous event.
"Going into the vault competition I just thought about how I could contribute to the team to the best of my ability." Sawyer said.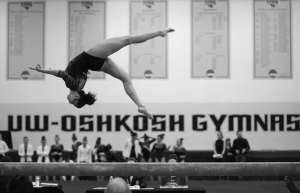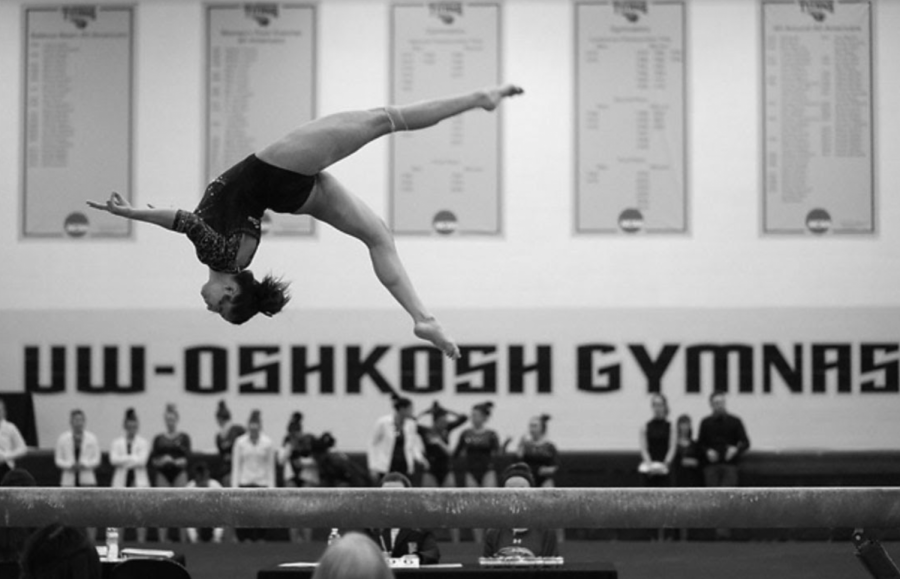 "My last event I didn't perform how I would have liked so I knew I had to brush that off and go into the vault competition with a clear head. Warmups were going well so when the time came to compete I was ready."
The UWO gymnastics team was dominant at the vault as four of the top six scorers in the competition were UWO gymnasts.
In addition to Sawyer, sophomore Emily Gilot finished second with a score of 9.70, sophomore Rahdea Jarvis finished fifth with a score of 9.575 and sophomore Haley Minor finished sixth with a score of 9.50.
The UWO gymnastics team also had a solid performance on balance beam as four of the competition's top eight scoring athletes were UWO gymnasts. Senior Baylee Tkaczuk finished third in the balance beam with a score of 9.70, sophomore Kaira Hammond and sophomore Olivia Keller tied for fifth both scoring 9.675, and junior Paige Mayhew finished eighth with a score of 9.525
According to Tkaczuk, the team's morale is high after consistent performances at the balance beam and vault.
"The team is very confident." Tkaczuk said. "Our last two meets on beam have been stellar and we are looking to keep the momentum forward on this event. The same thing could be said about vault." Tkaczuk also placed first in the uneven parallel bars with a score of 9.60, and Hammond placed third with a score of 9.55.
Unfortunately, some minor mistakes added up and UWW finished first at the invitational, edging out the Titans by just over a point.
However, Tkaczuk stated that the team's confidence is not shaken and is eager to improve on last Friday's performance.
"We have performed exceptionally on bars this year, so going into the next meets, our team is going to look at the bar performance as a fluke and move forward." Tkaczuk said.
"Although it is not ideal, sometimes it is good to get the mistakes over with at meets in the regular season so we can learn from them come regionals time." The Titans' next meet is against Hamline University of Saint Paul, MN, and is scheduled for 2:00 p.m. on Saturday, Feb. 15 at Kolf Sports Center. "