Mens Basketball splits series, drops to second in WlAC
The UW Oshkosh men's basketball team split a pair of competitive games over the past week, dropping them to second in the Wisconsin Intercollegiate Athletic Conference standings.
On Saturday, UWO traveled to La Crosse where they beat the Eagles, 79-74. Nearly all five starters scored in double figures as sophomore Eric Peterson was the only one in single digits with nine.
Senior Adam Fravert led the Titans with 16 points, 12 rebounds and four assists in 36 minutes of action. Senior Jack Flynn poured in 18 points while freshman Levi Borchert added 17. The game got off to a rough start for the Titans as UWL opened up an 11-point lead with about nine minutes to go in the first half. The Titans battled, though, and cut the lead to six by halftime.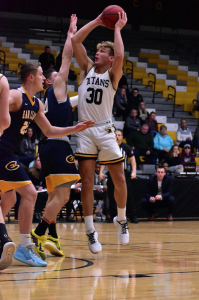 After keeping it close for most of the second half, UWO finally began to pull away with six minutes to play as they opened up their largest lead of the game with 5:24 left in the contest. On Feb. 5, UWO missed a shot in the waning seconds to ultimately fall to UW-Eau Claire by a score of 78-76.
Two-thirds of the Blugolds' scoring came from senior Cole Rabedeaux and sophomore Spencer Page who scored 32 and 20, respectively. Flynn led the Titans with 25 points with 11 of them coming at the free-throw line. Fravert recorded 18 points and 12 rebounds and Borchert had 14 points.
Head coach Matt Lewis said Flynn and Fravert have stepped up as leaders after dealing with a very young team around them.
"On a daily basis, those guys do a great job," Lewis said. "Obviously, each one of them is asked to do a lot on the court. But the way they conduct themselves off the floor, in the locker room or at practice has been the biggest thing." UWO was out-shot by the Blugolds from the 3-point line 52 to 37 percent and out-shot overall 51 to 40 percent.
The Titans' three losses in conference play have been by an average of 3.3 points with one coming in double overtime. Lewis said the team needs to do the little things well in order to get over the hump in those close games.
"We talk about trying to limit those things that are going to get you beat," Lewis said. "In each one of those games, we can go back to the specific possessions and talk about, we didn't finish that play or we took an undisciplined foul here. "In the game at Platteville in double overtime, we had 20 turnovers. It's difficult to win games if you have that many turnovers." On Wednesday, UWO faced off against UW-Stevens Point. The result of that game can be found at www.uwoshkoshtitans.com.
UWO will next face off against UW-Stout on Saturday at Kolf Sports Center.