Red hot Titans approach post season
The UW Oshkosh men's basketball team won two-straight Wisconsin Intercollegiate Athletic Conference matchups against UW-Stevens Point and UW-Stout last week.
On Saturday, UWO outscored UW-Stout 45-27 in the second half to come away with an 84-60 victory on senior day in Kolf Sports Center.
The Titans used a strong all-around showing to limit the Blue Devils to 41 and 28 percent shooting from the field and 3-point line. In comparison, UWO shot 55 and 38 percent from the field and 3-point line.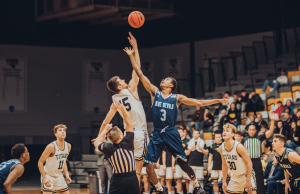 From assists to turnovers to bench points, UWO controlled the stat line as they notched their ninth WIAC win of the season.
The Blue Devils had their first and only lead of the game with 18 minutes to play in the first half and never mounted enough momentum to take it back.
Four Titans scored in double digits as seniors Jack Flynn and Adam Fravert paced the team with 15 points apiece.
On Feb. 12, UWO took on the team that bounced them from the WIAC tournament a season ago, UW-Stevens Point. The script was much different this time around as they defeated the Pointers 66-59.
In a game that was highly competitive, UWO's largest lead came at the 6:43 mark in the first half where they opened up a 14-point advantage.
Junior Tommy McGlynn said when someone has a down game, there's always someone willing to step up and perform well.
"We've always had a next man up mentality," McGlynn said. "I think this year it's been tested. I think we've handled it really well. There's a lot of guys whose roles have expanded way faster than anybody had anticipated."
Both teams shot an abysmal 22% and 26% from the three-point line. UWO held an advantage down low as they recorded eight more rebounds and had 28 points in the paint during the contest.
UWO starters combined for 58 out of the team's 66 points with Flynn accounting for 20 of them. Junior Eddie Muench poured in 13, Fravert had 12 and freshman Levi Borchert contributed 10 points for the Titans.