Reuth, Titans heat up as WlAC tourney nears
The UW Oshkosh women's basketball team kicked their performance into high gear this past week after prevailing against UW-Stevens Point at home and UW-Stout in an away game by double-digit margins.
With these wins, Oshkosh is now riding a three-game winning streak and has moved up to the fourth spot in the Wisconsin Intercollegiate Athletic Conference standings.
The Titans hold a 14-9 record overall, with their 7-5 conference record placing them just one game behind the three seed, UW-La Crosse, who they defeated on Feb. 8 by a score of 85-76.
"With three games left in the regular season I believe we can still move up," junior and top-scoring guard Leah Porath said. "I think we've been playing really well together these last couple games, and if we just keep focusing on executing our offense and getting stops on defense I think we can finish the season strong."
The team seems to be getting hot at just the right time, and the rather controlled 66-55 victory over UWSP on Feb. 12 showed remnants of what could be a late charge into the post-season.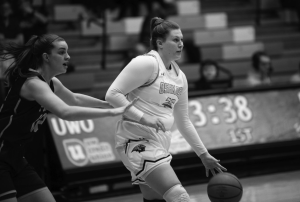 Against UWSP, Porath led the team with 17 points, six rebounds, three assists and a steal. She had some much needed help from sophomore standout Katie Ludwig who came off the bench and put up 16 points, a career high. She shot 6-for-8 on field goals and 1-for-2 from behind the 3-point line.
"Katie Ludwig has had a really good stretch over these last few games and I think that's been extremely important for us to be a little more consistent. As we've gotten deeper into the season, people have gotten more comfortable in some roles that they haven't had recently," said head coach Brad Fischer.
The Titans then came home and put on their best defensive showing of the season, cruising past UWS by a score of 54-36 in the last home game before senior night.
Leading the scoring effort in this competition was center Karsyn Rueth. The junior needed only 22 minutes off the bench to put up 16 points and five rebounds.
"Different people each game have been stepping up offensively, making us harder to guard," said Porath.
Oshkosh also didn't allow a single Stout player to score in the double digits, and they held their opposition to shooting just 28.8% from the field.
The results of the Feb. 19 game at UW-Whitewater can be found through this link: uwoshkoshtitans.com/sports/wbkb/2019-20/schedule.
A spot as the third seed in the WIAC will hang in the balance when the last game of the regular season takes place at the Kolf Sports Center on Feb. 19 with tip-off occurring at 7 p.m.
"There's a different sense of urgency; seniors don't ever want to see their careers end," said Fischer. "We have to do the best we can to get to our ceiling as soon as possible. If we can do that, I feel like we'll be a tough out in the tournament."