Titans push past Blue Devils, onto Warhawks
UW Oshkosh women's basketball pulled away late in the fourth quarter to defeat UW-Stout, allowing them to advance to the second round of the Wisconsin Intercollegiate Athletic Conference Championship.
Before the Tuesday night game tipped off, the Titans split their last two games of the regular season with a close 75-71 loss at UW-Whitewater on Feb. 19 and a 88-49 blowout win against UW-River Falls last Saturday.
When all was said and done with regular season play, the team finished with an overall record of 15-10 and the four-seed in the six-team WIAC tournament.
Junior guard Leah Porath led the WIAC in points with 17.7 per game, but got some help down the stretch from Nikki Arneson with 33 points against UW-La Crosse on Feb. 8 and Katie Ludwig with 23 points against UWRF on Saturday.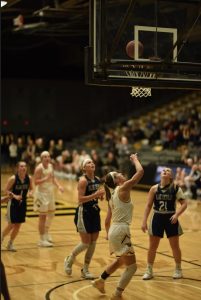 "Through the ups and downs this season, this team has always stuck together and have tried to fix things together as a team," sophomore guard Katie Ludwig said following the home win against UWRF. "I feel like this has led to the success that we are having right now at the end of the regular season."
The 15-10 Titans showed that they can hold their own against nationally-ranked competition on numerous occasions, splitting the two game season series against No. 4 UWW and losing by close margins to No. 3 Depauw University (60-55) and No. 10 Loras College (88-83 in overtime).
Oshkosh has also split the season series against UWL, a team that is just on the outside of the Division III Women's Basketball rankings according to D3hoops.com.
"We just didn't have that A-game as much as we would've liked," Fischer said. "We can go punch for punch with better teams in the country. At our best, we are as good as most teams in the nation."
However, that A-game showed up when the Titans needed it most against UWS in their crucial win-or-go-home showdown.
The Titans and Blue Devils played a close game for the first two quarters, going into halftime with a score of 26-22. Oshkosh had a total of three shot-clock violations in the first half, keeping Stout in the game.
"Our offense was flowing pretty well, but those shot clock violations really impacted us," junior forward Nikki Arneson said. "In the second half, we knew that we had to drive the lane."
Arneson put on a show by leading all scorers with 29 points on a 9-for-11 shooting effort. After being limited to zero points in the Feb. 19 game against UWW, Arneson has averaged 31 points in her last two games.
"We have two seniors that mean so much to this program, and feel that having to extend our season is something that we all want. We're working well together right now," Arneson said.
With this victory, Oshkosh has now won five of their last six matchups.
Their next game will be against UWW in the WIAC semi-final, and UW-Eau Claire will travel to UW-La Crosse to play the other half of the two competitions.
Both games will take place on Thursday, Feb. 27 with a tip-off time of 7 p.m. and a spot in the WIAC final.