UW Oshkosh Gymnastics cruises past UW-Eau Claire
The UW Oshkosh gymnastics team continues their string of dominant victories this season, sweeping UW-Eau Claire in all four event categories to claim a 186.90 to 178.70 win.
Senior Baylee Tkaczuk took first place in two events, taking the top score in uneven bars with a 9.450 and tying her teammate, sophomore Kaira Hammond, with a score of 9.525 in the balance beam.
Tkaczuk said that despite the strong performance, the team had to fight back early on in the contest.
"We had to count one fall on the first event, but instead of letting that get to us, we were able to really bring it together on the following three events," she said. "We especially ended the meet well on beam with six-for-six hit routines. I think the scoring was a little low, but we didn't let it affect us and came out with another win."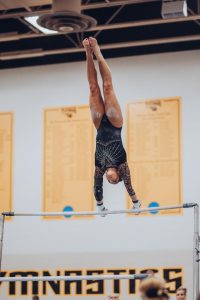 Sophomore Emily Gilot scored a 9.650 to claim first place in the vault event and sophomore Rahdea Jarvis scored a 9.575 in the floor exercise routine, rounding out all four of the Titan's leading individual performances during the meet.
Gilot, Jarvis and senior Jessica Bernardo finished in the top five in the uneven bars with Gilot placing second with a score of 9.400, Jarvis in third with a 9.325 and Bernardo tied for fourth with UWEC's Christina Leikam with a score of 8.900.
Junior Paige Mayhew, sophomore Alyssa Nore and sophomore Rachel Morris took fourth and tied for fifth place, respectively, with scores of 9.375 and 9.300, as the Titans took five of the top six places in the balance beam event.
UWO also took five of the top six places in the vault event, as freshman Trinity Sawyer took second with 9.500. Jarvis took third with 9.475, sophomore Haley Minor tied with UWEC's Emma Barry for fourth place with 9.325 and freshman Haley Volstad took sixth with a score of 9.250.
The Titans were consist as they took five of the top six finishes in the floor exercise, with sophomore Olivia Keller scoring 9.525 to take second place, Gilot with 9.475 for third, Bernardo with 9.325 for fourth and Sawyer scoring 9.175 to take sixth.
The Titans now hold a 7-1 conference record and currently lead the conference while remaining the third-ranked Division III school nationally, according to RoadToNationals.com.
In addition to the team's success, Tkaczuk was one of 32 nominees for the American Athletic, Inc. Award nationwide. The AAI Award is given to the most outstanding senior female gymnast across all divisions, with Tkaczuk being the only D-III nominee in the nation.
"It is exciting to be nominated for the AAI award," Tkaczuk said. "It is especially cool to be on the same ballot with gymnasts like Kyla Ross and Maggie Nichols. I am truly blessed for this opportunity and hope that it raises more attention for D-III gymnastics."
Tkaczuk said she will continue to put in consistent effort for herself and her team in order to reach their goals.
"I will continue to try and practice under pressure and perform confidently when doing so," Tkaczuk said. "I also want to be there for my teammates and do what I can to help everyone be the best version of themselves so we can reach our goal of making it to nationals."
The UWO gymnastics team will next compete on Saturday, Feb. 29 when they travel to take on 12th-ranked Gustavus Adolphus College in Minnesota.