UW Oshkosh men's basketball clinches first round bye
The UW Oshkosh men's basketball team increased its win-streak to five games and clinched a first-round bye for the Wisconsin Intercollegiate Athletic Conference tournament.
On Saturday, UWO took care of business in a road bout against UW-River Falls, defeating the Falcons by a score of 74-64. The win secured the Titans with a second-place finish in the WIAC standings and they will face UW-La Crosse in the second round of the WIAC tournament Thursday.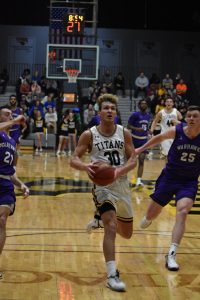 UWO had four players in double figures as seniors Jack Flynn and Adam Fravert poured in 19 points apiece. Freshmen Levi Borchert and Will Mahoney both contributed 10 points.
Although UWO shot 3% and 4% better than UWRF from the 3-point line and the field, UWO used a stiff 41-28 rebounding advantage to open up a sizable lead on the Falcons.
On Feb. 19, UWO dominated UW-Whitewater from start to finish, defeating the Warhawks 86-65.
At its largest, UWO's lead ballooned to 26 as their post presence was unmatched by UWW's big men.
The Titans owned a 40-26 edge in points in the paint and a 39-23 rebound advantage over the Warhawks.
Five Titans scored in double digits as Fravert (19), Flynn (16), junior Eddie Muench (14), Mahoney (12) and Borchert (10) all contributed offensively.
Fravert was aggressive all game long as he went to the free-throw line nine times, converting eight of those attempts.  As a team, the Titans took 27 trips to the line and connected on 21 of them.
Nationally-ranked UW-Platteville won the regular season tournament with a conference record of 12-2 and an overall record of 22-3.
Last season, UWO was bounced from the WIAC tournament in the second round by UW-Stevens Point but rebounded to win the national title.
UWO will make its second-straight appearance in the WIAC tournament as a top-2 seed Thursday night.