Young roster looks to make an impact in 2020

The UW Oshkosh baseball team ranks third in the Wisconsin Intercollegiate Athletic Conference preseason poll, and will begin their season against North Park University of Chicago, Illinois on Feb. 29.
UWO hopes to rebound from a disappointing 2019 where the Titans finished fifth in the WIAC and had an in-conference record of 11-13.
The Titans have a core of 11 letter-winning players returning from the 2019 season, led by standout junior infielder Hunter Staniske.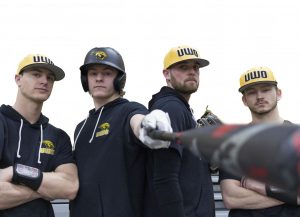 Staniske received all-WIAC Honorable Mention recognition for his performance in the 2019 season, where he ended the season with a .333 batting average.
Despite the returning core, the Titans are largely made up of underclassmen that lack experience but, according to Staniske, are eager to prove themselves at the college level.
"Our biggest weakness is definitely experience," Staniske said. "Our biggest strength is we have a lot of confidence and we have a lot of new people that want to step in and play baseball at this level."
Although the underclassmen on the team may lack experience, Staniske said the upperclassmen on the team are making sure to bring the younger members of the team up to speed.
"We have a lot of incoming freshman," Staniske said. "So, a lot of them ask us upperclassmen what to look for because we have experience in that situation. Definitely, as a team, we are doing pretty good at helping our younger guys."
Junior Will Michalski will be the top returning pitcher for the Titans, starting six games for the team last season.
Outfielder sophomore Sean Cummins led the Titans in home runs last season with five, but despite having the numbers of a power hitter, Cummins doesn't consider himself one.
"I just swing the bat hard every time," Cummins said. "A lot of times if you make contact it will go. So I wouldn't say I'm necessarily going for power."
The WIAC preseason poll, which is conducted by the league's head coaches as well as information directors, ranked the conference's baseball teams from first to seventh as follows: UW-Whitewater, UW-La Crosse, UW Oshkosh, UW-Platteville, UW-Stout, UW Stevens Point, Finlandia University.
The Titans have a long stretch ahead of them as they will not play their first home game until March 25.
Although it could be a struggle to begin the season with a long stretch of road games, Cummins is undaunted.
"I don't really think it's that big of a deal." Cummins said. "If you look back at my freshman year we were pretty much on the road the whole month [of March.] I think a lot of us have experience with it, but we have a lot of freshmen so we will see how it goes."