UW Oshkosh Baseball starts season off 1-2
The UW Oshkosh baseball team went 1-2 over a three-game set to open the 2020 season in Sauget, Ill. over the weekend. The Titans split weekend competition at Sauget, Ill. with an 8-5 win over Concordia University Chicago and a 2-1 loss against North Park University.
"We need to be better at making hard contact and working the count to get the starting pitcher out of the game quicker," head coach Kevin Tomasiewicz said. "We also need to realize that every play could be the difference maker in the game. We are a really young team and we will learn that quickly."
A missed opportunity to put some runs on the board came earlier when the Titans failed to capitalize on a bases-loaded, no-out situation in the bottom of the first against North Park.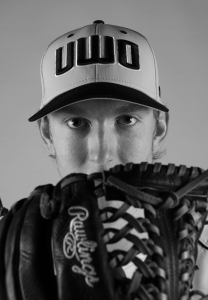 Following that tough loss the Titans rebounded nicely with an impressive 8-5 victory over nationally ranked Concordia University Chicago in Saturday's second game. A double by freshman Jake Andersen drove in the runs to give UW Oshkosh their first lead of the game in the top of the fourth inning.
"Growing up it is always a dream of any kid to be up in big situations," Andersen said. "It was a great moment that I won't forget. It's a great feeling that the first one came the way it did, hopefully there's many more like it in the future."
The Titans continued their onslaught with a three-run top of the seventh before a comeback bid by Concordia fell short as the Titans picked up their first win of the season.
"After the loss and the first game jitters, we stepped back and reviewed our approaches at the plate that we have been working on for the past five weeks," Andersen said. "This allowed us to see more pitches and forced them to start their bullpen early."
The Titans finished their weekend with a heartbreaking loss to another nationally ranked team in Webster University, who came out on top 4-3 in 10 innings. A back- and-forth matchup led to junior Sean Cummins hitting a game-tying RBI single that would lead to the game going to extras. Webster would then drive in the winning run in the bottom of the 10th to walk-off the Titans.
The Titans will now prepare for their next set of games against Berry College (Ga.) on Friday, Adrian College (Mich.) on Saturday, and Denison University (Ohio) on Sunday in games that will be played all the way down in Georgia.
"We will practice a couple of times and work on the things that we feel as a coaching staff we struggled at," Tomasiewicz said. "Our schedule resembles a nice baseball schedule where we are playing consistent games on the weekend. The weekend will be a tough test again for us, facing another two ranked teams."