UWO enjoys 'sweet' victory after huge comeback
UW Oshkosh has shown everyone that they are an absolute force to be reckoned with. The team defeated Edgewood College in the first round, a team with a 25-2 record prior to the matchup, in a 61-40 blowout on March 6.
Roughly 24 hours later, Oshkosh pulled off the comeback of the year in a 68-62 victory at Bethany Lutheran University to send the Cinderella team to the Sweet 16 round.
The Titans started their postseason off by taking a commanding 37-22 lead over Edgewood going into halftime. The team went 4-for-7 from behind the 3-point line and was beating Edgewood in total steals 4-1.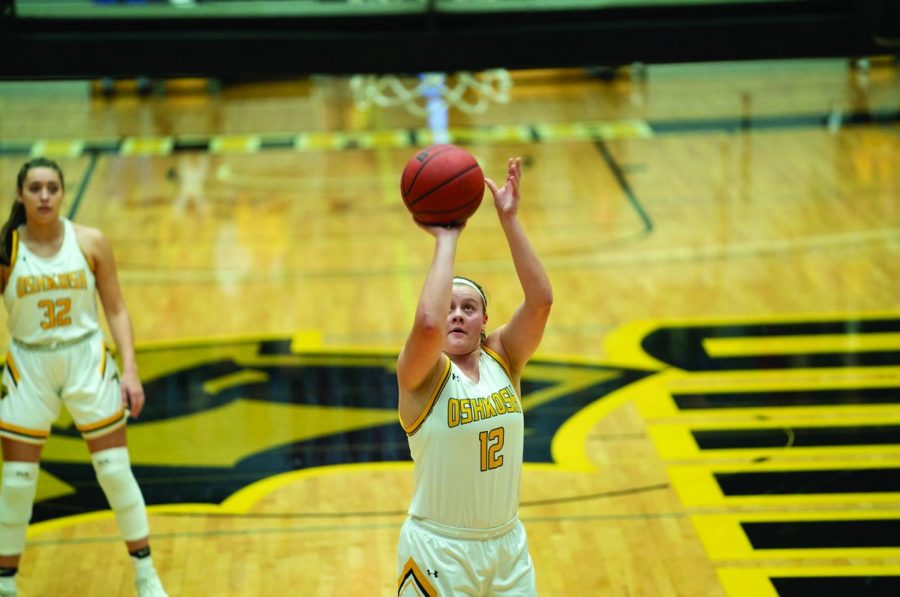 "I think it was a big confidence booster to be up by 15 points at half, especially since it was the first playoff game," sophomore guard Katie Ludwig said.
Following the lopsided first half, Oshkosh kept their foot on the gas pedal. The team scored 18 points to Edgewood's six in the third quarter to cancel out any possible chance of a comeback.
"After watching the film and talking with the coaches we knew Edgewood was going to be a good team, but we knew we could go at them in the post," junior forward Nikki Arneson said. "Their guards were very quick and pressured our guards quite a bit, so I knew I had to step up and post up more than I usually do."
The Titans had 12 steals and forced Edgewood to turn the ball over 18 times compared to just 11 on their end.
This blowout win was led by Arneson, who had 21 points, and it propelled the team into a round of 32 match-up against Bethany Lutheran University on their home court.
After a picture-perfect start against Bethany Lutheran, going up 15-6 in the first quarter while only allowing them to shoot 20% from the field, Oshkosh fell into a deep hole.
Bethany Lutheran rattled off 46 points in the next two quarters to take a 12 point lead going into the final ten minutes of the game.
"We got in a hole against Bethany Lutheran in the second half because they were getting hot and going on a run," Ludwig said. "We panicked a little and started forcing shots."
With Oshkosh's season on the line, they absolutely took off. After entering what could've been the final quarter of their season in a 52-40 deficit, the team went off on an 18 point scoring run.
The Titans didn't allow Bethany Lutheran a single point in the fourth until there was 3:23 left on the clock, and by then, they were already up 58-52.
"I think what led to our success in the fourth quarter was our toughness and grit," junior center Karsyn Rueth said. "To go on the run, we played with great chemistry and got Leah the shots she needed to help lead us past Bethany [Lutheran]."
Bethany Lutheran's Kenlie Pytleski attempted to help her team claw back into the game when she drilled a three-pointer to make the game 58-56 with 2:25 left, but junior guard Leah Porath quickly answered with a three of her own on the ensuing possession.
Porath would go on to score eight of the team's last nine points to seal the deal while putting up a game-high 27 points.
With the win, the Titans advance to their second consecutive Sweet 16 game. The team will take on Loras College in Holland, Mich. after falling to them by a score of 88-83 on Nov. 16.
"We have to continue to work hard in practice and push each other every day so that when we play Loras next week we are prepared," freshman guard Jenna Jorgensen said. "We are a much better team right now than we were at the beginning of the season."
Loras is ranked No. 13 in the country by d3hoops.com after defeating UW-La Crosse 68-52 in the round of 32. Oshkosh and Loras will face off on March 13 with a tip-off time of 4 p.m.